Nearly 500 students, teachers and chaperones attended the second annual CyberSlam at George Mason University's Johnson Center on Monday. 
Briar Woods High School teacher Chris Starke started the event in Loudoun last year. The event moved to the larger venue this year as more cybersecurity educators expressed interest in having their students participate. 
Starke said he created the event after talking with people in the cybersecurity industry in Loudoun who pointed out that there weren't a lot of opportunities for students to be exposed to the cybersecurity field. He said as a high school teacher he was looking for things that could support and augment his curriculum, so with the help with Loudoun County High School teacher Jen Marden and several other teachers CyberSlam was born.
Last year about 175 kids showed up on a Saturday at the Briar Woods High School auditorium for a half a day of cybersecurity immersion. This year, over 400 registered for the nearly day-long program that included four 45-minute hands-on workshops.
"Last year the focus was on engaging them, connecting them with the industry and getting them energized in careers in cybersecurity. This year our big thing was 'get hands on with cyber,'" Starke said.
The four workshops included a Capture the Flag Jeopardy style game-where challenges in different cybersecurity categories are chosen and points are awarded to the winner- lead by David Raymond, the director of the Virginia Cyber Range and the U.S. Cyber Range. Raymond also presented at last year's CyberSlam.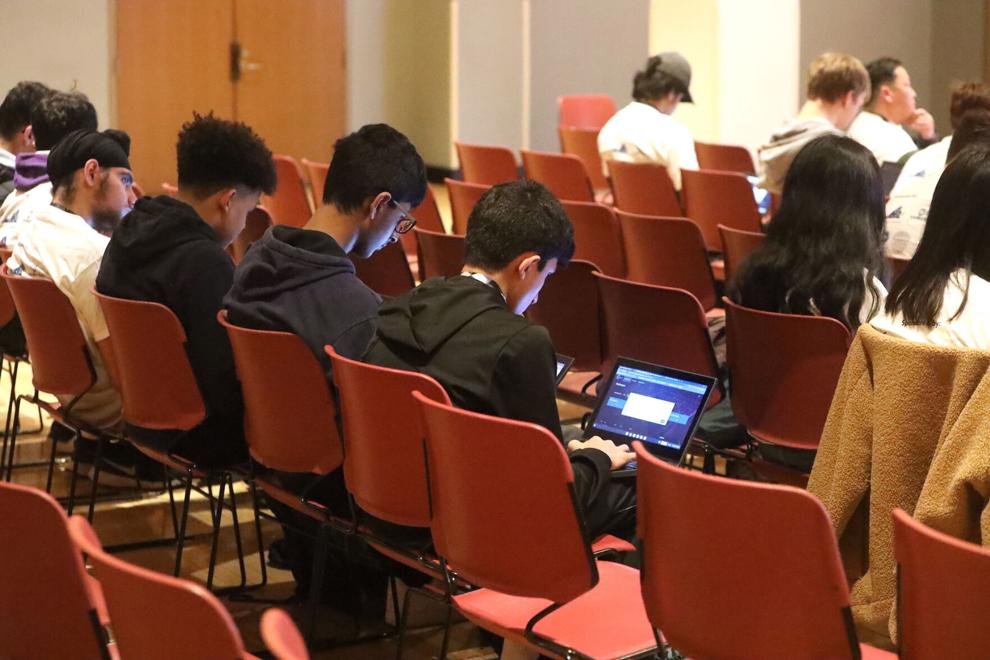 Raymond said Capture the Flag competitions are very popular in college cyber security clubs and are often hosted by large tech companies like Google because it brings in the top students and the company can then recruit them. 
The Virginia Cyber Range is located at Virginia Tech and is funded by the state to support cybersecurity education at Virginia high Schools and colleges—about 300, according to Raymond. Cyber Range provides a cloud hosted infrastructure so students can work with malicious software as they are learning how to defend against network attacks without compromising their schools' network. 
He said Virginia is the only state offering that offers this type of hands-on learning to students and said it has revolutionized cyber education in Virginia, because without Cyber Range, students in high schools and colleges across the state wouldn't have the hands-on component. He said there are a lot of good reasons for exposing kids to the field young.
"It's new and critical. If we are going to fill 600,000 jobs nationwide, we can't do it with the current model. We need to start kids younger so when they go to college, they know what cybersecurity is and if they want to study it," he said.
Another workshop that was popular among students was "Encryption with a Pringles can," lead by Chuck Gardner, senior director of government and non-profit engagement for CYBER.org and a former teacher. Students used a Pringles can to create their own Enigma machine, an encryption machine used by the Germans in WWII. They were tasked with taking a phrase and encoding it using their Pringles can.
Riverside High School senior Landon Walter attended CyberSlam for the first time this year. He said he was really looking forward to the cryptography workshop. 
"We tell the cryptography kids they need to have a curious mind. That it takes determination and some stick-to-it-iveness, so to speak, to solve the problem," Starke said. "It's not like 'here's the manual, go do this'. It's what do you know, what are you trying to figure out and how do you get from point A to point B. We tell them to use their resources, use their knowledge, their teammates, classmates and teachers. And that is what brings these kids to the next level, and maybe they are the next cybersecurity superstar of our time."
Mary Kim from Raytheon Technologies and Riverside High School student senior Ishan Jadhwani lead the penetration testing workshop. Starke called it 'ethical hacking' where students try to break into a network, then report how they did so the weaknesses can be fixed.
Lord Fairfax Community College interim cybersecurity program lead Melissa Stange, and George Mason University associate professor of cybersecurity engineering Henry Coffman led a workshop where students learned about ways drones are used, including to smuggle things into prisons and to fight wars. Students also flew various types of drones.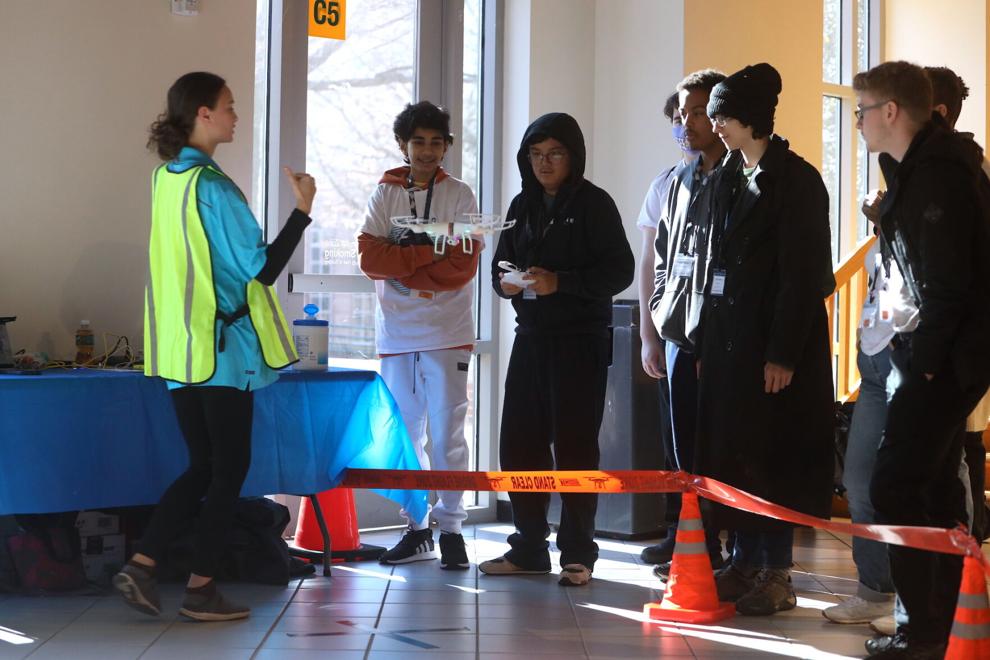 Stone Bridge High School senior Kiran Flieg attended the conference for the first time this year. She said she plans to get a master's degree in cybersecurity and thought the conference was a good opportunity to connect with other students and professionals and learn more about what it takes to work in the field.  
Students were welcomed by George Mason University associate provost Liza Wilson Durant, who pointed out the unprecedented times students are in with cybersecurity and how much it has changed in the past decade to involve securing energy grids, autonomous vehicle, doorbells and medical devices embedded in human bodies.
"You are here because of an interest in cybersecurity and the fact that you are working and honing your talent and skills in that area. We hope over the next several years that those skills and the beginning work that you started in school is going to develop into a real expertise that is going to have impact on the quality of our lives and even the security of nations around the world," Durant said. 
Durant said in Virginia alone there are over 60,000 open cybersecurity jobs right now, or about 150 jobs per each of the 400 students at the event.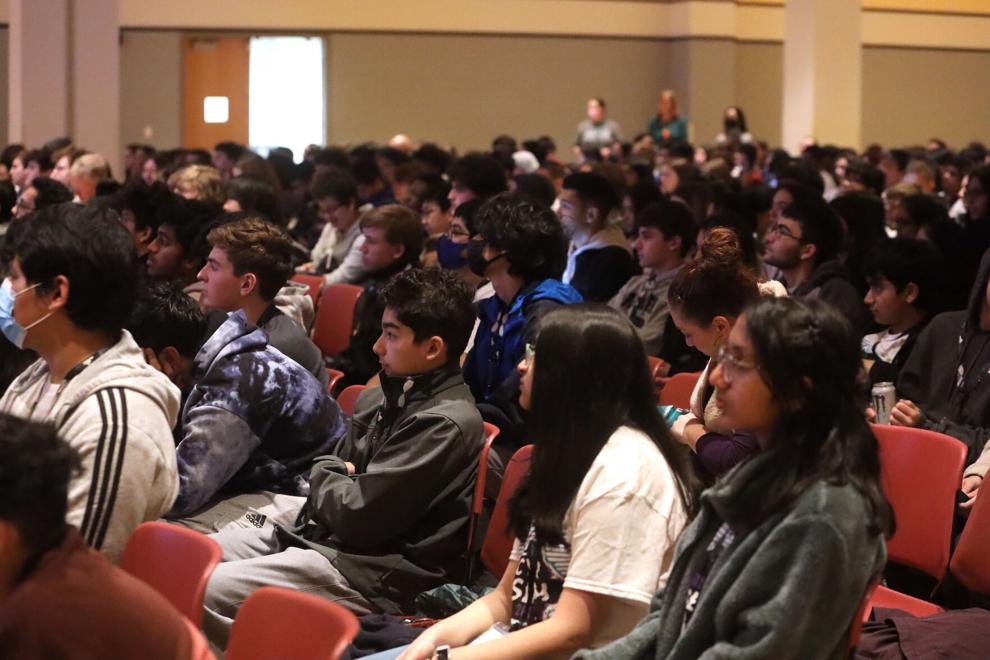 "And that is just right now, so think about in the next few years how those jobs will continue to grow. We've got to fill them in order to ensure the security of our nation," she said. 
Virginia Deputy Secretary of Homeland Security and Assistant Homeland Security Advisor Aliscia Andrews spoke about cybersecurity being more than a career, but a lifestyle because it touches everything. She said the jobs are limitless and just depend on what the student is interested in.
"There is everything from securing the Port of Virginia, to elections, to working with rockets and agriculture jobs," she said. She also talked about jobs investigating crime. 
Students also heard from members of the United States Secret Service who investigate cybercrime and the illicit use of cryptocurrency, Matt O'Neill, Michael Condor and Michael Johns and were given the opportunity to ask questions about a career in law enforcement and cybersecurity.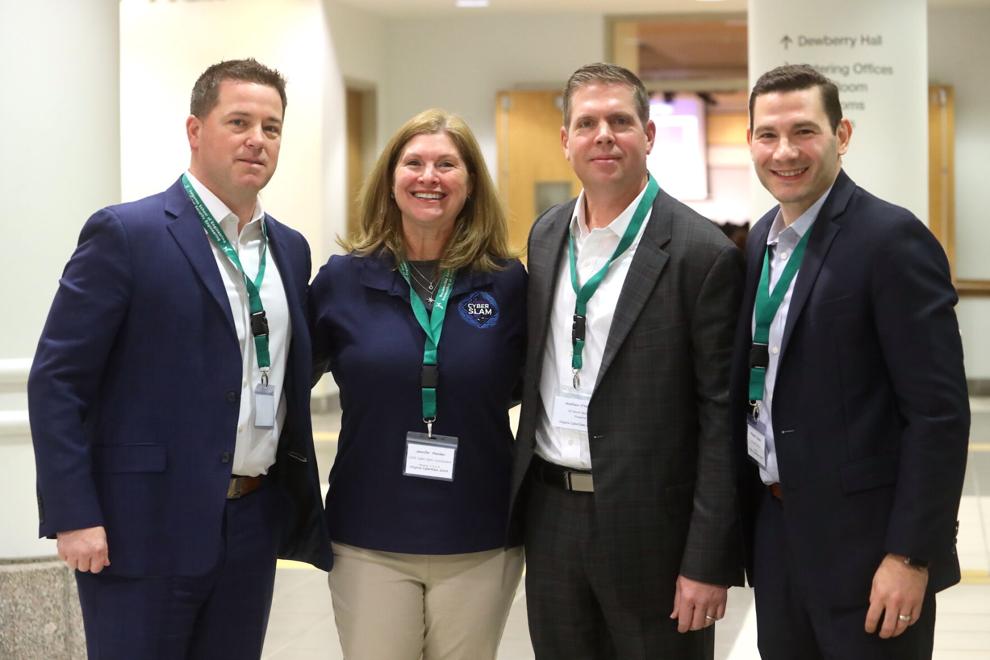 Dominion High School freshman Ayana Chowdsury said she was really excited to be at the conference and to be with so many people with the same interest. She said she wasn't going into computer science, rather the medical field, but believed learning about cybersecurity was still essential for everyone to learn.
Starke said the main goal of the conference was to connect students with people in the industry so they could get an idea of what is out there for them in the field of cybersecurity.
"They don't have to be the technical wizards or on the keyboard 24/7. There is policy, there is procedure, there is law enforcement where they can chase the bad guys like the Secret Service guys do. There is cryptography and protecting their own personal information."
The conference wrapped up with raffle drawings for items like drones, games and a raspberry Pi, a mini computer with its own operating system.
Marden said making the conference happen was a group effort that took about five months and thousands of hours of planning. She said they were grateful for George Mason and their support and for all the teachers, sponsors and chaperones who helped make the conference happen. 
"The sole purpose of this is for the students. For them to see there is more to cybersecurity than what they see in the classroom and to hear from all these different scholars and different experts in the field is amazing," Marden said. 
She said she hopes next year's CyberSlam is even bigger and better.