Although plans for a 30-home subdivision near the village of St. Louis comply with county zoning rules and can move forward without Board of Supervisor review, many area residents continue looking for ways to stop the project.
More than 50 area residents sat attentively in the auditorium of Banneker Elementary School on Friday night to hear from County Chairwoman Phyllis J. Randall (D-At Large) about what could be done to impede developer Jack Andrews from advancing his Middleburg Preserve development—a 30 single-family home subdivision on about 16-acresthat borders the Mt. Zion Baptist Church. Aside from learning more about the project, which they initially did at a Sept. 12 meeting, the residents also petitioned Randall to do more to stall it, claiming the homes would adversely affect the village's water supply and unmarked graves.
Randall emphasized numerous times that the subdivision, which will be built by NDR Builders, is a by-right development, which means county zoning will allow for it to advance without approval from the Board of Supervisors.
According to Loudoun Environmental Health Manager George Khan, the proposed subdivision, located along Snake Hill Road, has permits to drill nine wells. 
Some neighbors claimed that drilling already is impacting their water supplies.
Job Woodill, who lives near the property, said he has two dry wells, one that ran dry just last month, and a third well he drilled 600 feet deep three years ago that flows at a rate of less than two gallons per minute. He said another well next door to him also recently ran dry.
Woodill told residents that they "need to be ready" if Andrews' project advance and urged them to bear in mind that they might need to drill new wells or install onsite water storage that could cost them $30,000 to do. "I'm very worried about this," he said.
While Andrews has the go-ahead to drill nine wells at the moment, he is not yet allowed to drill all 27 of the wells he has proposed. To do that, his engineer, J2 Engineers, on Sept. 4 requested a waiver from the county's hydrogeologic testing requirements. While The county's Department of Building and Development denied that request on Oct. 7. Andrews could drill the initial nine wells now and then apply to drill another nine later, and then another nine. "As of this point, we don't know what he's proposing to do," Khan said.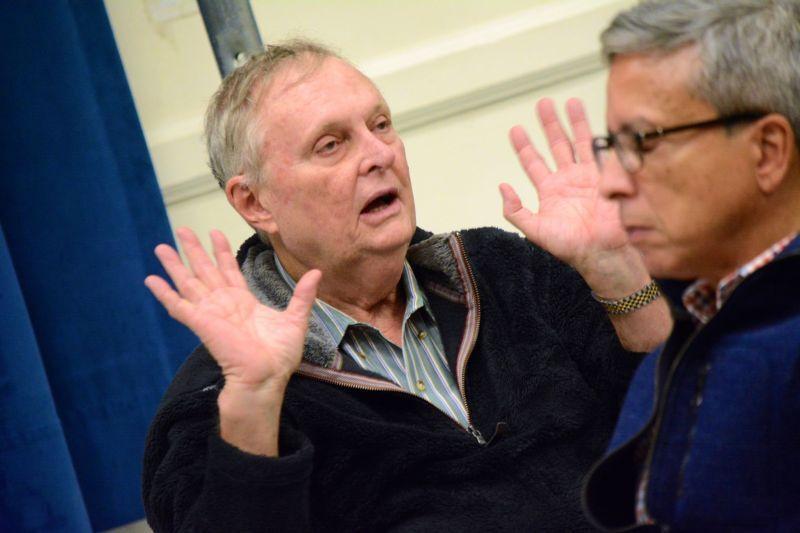 In addition to water concerns, residents also asked about unmarked graves on the property. Randall said that the county staff believes there are more graves than the 23 that an archaeological survey identified, but that they probably exist within the confines of the existing graveyard that was found. She mentioned that the Board of Supervisors on Oct. 17 passed a new cemetery buffering ordinance that requires developers to include a 50-foot, rather than a 25-foot, buffer between their developments and any gravesites. That ordinance will become county law on Nov. 21.
Residents asked Randall what they, or the county, could do to stop the development.
Randall told the residents they could find loopholes in Andrews' applications, but all she could do would be to discuss those with the county staff, since the application is administrative and will never go before the board for a vote. 
"Whatever I can do to stop this, that's what I want to do," she said. "There's a difference between having the right to do something and that thing being the right thing to do … I'm going to work against this because I just don't think it's the right thing to do in St. Louis," she said.
Hearing that, one resident raised his voice, called the proposed development a "get-rich-quick scheme" and called for Randall to relinquish control of the meeting.
"[Randall] doesn't care about this community," he said. "Come on people, this is a community meeting."
Randall again emphasized that she did care about St. Louis and that she would do all she could to stop the development, but that it would still never come down to a board vote.
Department of Building and Development Director Alan Brewer backed Randall by telling the residents that county staff would review each of Andrews' applications thoroughly for compliance with relevant state codes.
Hobie Mitchel, Andrew's partner in the project, told the residents that he and Andrews are proceeding with their application and are "doing what was allowed in this area."
Matt Berg,a 35-year village resident, told Mitchel thatresidents weren't OK with the project. "The dialogue is fairly clear, we don't want you here and we don't want more homes," he said.
Albert Bland, a 63-year village resident, said residents were opposed to village outsiders telling them what to do with their land.  "We don't need that," he said.
Another resident asked Randall and Brewer if the village could use its rich African American heritage as leverage to stop the development, but Brewer said that even an historic designation wouldn't block by-right development.
Before leaving the meeting, Randall urged residents to continue feeding her information. "Keep giving me things to look at," she said.