Loudoun's legal community gathered in the historic courthouse Friday evening to celebrate the formal investiture of Matthew P. Snow as the newest Circuit Court judge.
Snow, who began his legal career with the Loudoun County Office of the Public Defender two decades ago, was selected by the General Assembly for the Circuit Court judgeship after serving three years on the District Court bench. 
The ceremony, held in Loudoun's historic courthouse, celebrated a man dedicated to serving justice, his family and his faith as Snow and his colleagues reflected on the experiences and influences that brought him to the position.
Snow was born in Ohio, the son of a metallurgist in the aerospace industry and an elementary school nurse, and grew up in Connecticut. While attending Glastonbury High School, he was influenced by two special teachers. 
First was Suzie Hoyt, who as a fresh college graduate took over coaching his boys' swim team at the school in 1990. His passion for the sport continues as he went on to compete on the swim and dive team at the College of William and Mary while earning degrees in government and philosophy and still today as he coaches his daughter in the sport. 
Another was Deborah Viens, a history and social studies teacher, who taught a business and law class and started a mock trial program that provide a teenage Snow with his first introduction to the legal system.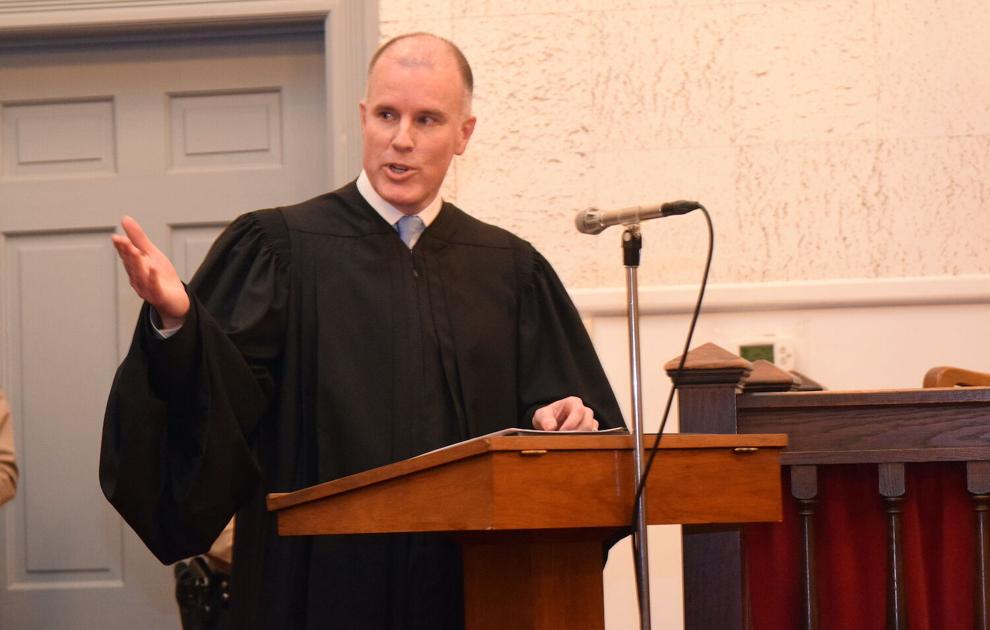 Snow earned his law degree at the University of Richmond and in 2000 was hired as an assistant public defender in Loudoun County even before the results of his bar examination were known.
District Court Judge Lorrie Sinclair Taylor was an assistant commonwealth's attorney when Snow was a public defender and remembers him then as a well-prepared and trustworthy adversary in the courtroom. They later joined forces in private practice when they formed a law firm with now-Commonwealth's Attorney Buta Biberaj.
The firm dissolved in 2020, when Biberaj took over as commonwealth's attorney and Sinclair Taylor and Snow were elected by the General Assembly to District Court judgeships.
District Court Chief Judge Deborah Welsh said Snow and Sinclair Taylor came to the bench at a challenging time when two experienced judges had retired, the clerk's office was understaffed and a COVID emergency had been declared. And because of their prior partnership with the newly elected commonwealth's attorney, they couldn't hear local criminal cases for the first year.
"But both of these judge rose to the challenge," Welsh said, noting they became a traveling court to hear cases in surrounding jurisdictions while other judges were brought in to help with Loudoun's criminal cases.
She noted Snow "became our landlord specialist" as he researched and developed policies based on the ever-changing COVID eviction guidelines and contributed service on the District Court Mental Health Docket.
He also brought new procedures and operational practices from his visits to other jurisdictions.
Both Welsh and Sinclair Taylor said those procedures involved a lot of colored markers and file labels.
"OK Circuit Court, you need to look out, because he's going to have you organized and is going to have you color-coded," Welsh said.
"This is your calling. You were born for this," Sinclair Taylor said to Snow. "The citizens of Loudoun County can have faith that they will have their arguments heard, they will be judged fairly and they will get their day in court. And I have faith that you will always remember the charge in Micah 6:8 to do justice, love mercy and to walk humbly with your God." 
Snow said he enjoyed his time on the District Court bench, especially the chance to work with and learn from judges in the surrounding counties.
"It was the best judge school that I could have asked for," he said. But he looked forward to the types of cases that will cross his desk in the Circuit Court.
"That deep dive that we can take on cases the Circuit Court is an amazing experience for the nerd brain that I have," he said.
Snow sought to shed some light on what happens in chambers behind the courtroom doors. He noted some of the displays he has put up in the hallway, including a couple of the Gettysburg Address on one wall facing a quote from a court scene in the movie "My Cousin Vinny:" "Counsel, that is a lucid, intelligent, well thought out objection. Overruled."
At the entrance to his courtroom, there is a verse from Deuteronomy: "Give the members of your community a fair hearing and judge rightly between one person and another whether citizen or foreigner residing among you. You must not be partial in judging. Hear out the small and the great alike. You shall not be intimidated by anyone, for the judgment is God's. Bring me any case that is too hard for you and I will hear it."
Snow said his Christian faith doesn't influence what he decides as a judge, "but how I make those decisions and how I treat people who come before me."
Snow said he knows the importance of listening and working to understand the positions of those coming before him. He pointed to the experience of his wife as a child of immigrant parents living in inner city Baltimore in the 1980s. In court with her mother seeking a protective order from her abusive father, Snow said the hearing was going in favor of the father, who spoke better English, until the child stood in court and displayed the bruises covering her arms and torso. It was only then, Snow said, that the judge began to understand the case.
"My wife is a living and breathing example to me to remember that you have to listen to the people who come into this court and seek justice. Because sometimes they can't speak the right way, they don't use the right terms, they might not speak the right language, but it doesn't mean that their issue or their interest is any less of worth or any less valued. That art of listening is something that is important to me and something that my wife, through her story, reminds me of every day," Snow said.
Chief Judge Douglas L. Fleming Jr. closed the ceremony with a caution that "they don't appoint us to be right, they appoint us to be fair."
"We are stewards of the how. How our system of justice is administered. And how justice is administered should not be a matter of opinion. Saying 'good morning.' Pronouncing a person's name correctly, or if you're not sure, asking them and having them work with you to make sure you get it right. Listening patiently. Making sure the litigant knows that you understand his or her arguments, even if you respectfully disagree with them. All combine to make for a fair proceeding, one in which the persons are validated and respected," Fleming said. "If we can do these things, then maybe—just maybe—the persons who use our courts will say, 'I may not have achieved the result I had hoped for, but I had my day in court and the trial was conducted fairly.' because we were good stewards of the how, even if they are disappointed in the what. 
"If someone can say that about us, Judge Snow, then I have no doubt that we have done our job. And I have no doubt you will do your job and do it well."