After 18 month of work and a mountain of community support, the volunteers behind HeroHomes on March 31 handed the keys to a new house to Brain Haas, a U.S. Army helicopter pilot who spent nearly three years at Walter Reed Hospital recovering from injuries sustained in Afghanistan. The 2,100-square-foot, three-bedroom Purcellville home features solar power and energy-efficient green technology and other features designed to address Haas's needs. The 20-year U.S. Army veteran was an Apache helicopter pilot who served four tours in Iraq and one in Afghanistan, logging 1,550 hours of combat flight time. In 2013, at the Forward Operating Base Shank in Afghanistan, Haas damaged the disk between the L5 and S1 vertebrae in his back during a hard landing. He continued flying for several months, until the chronic pain prompted doctors to evacuate him to Bagram, Germany, and then to Walter Reed in Bethesda, MD. In addition to the back injuries, Haas was treated for a multitude of other injuries suffered during his Army service, including PTSD. He was released from the hospital in November and is looking forward to retirement with his wife, Jolyne, in Purcellville, made possible by the generosity of
. "I've got other friends who have received houses and some of these huge corporations they're pulling in millions of dollars from all over the nation, and the amazing things with this one is: It's community, it's home, it's right here. And that just makes it all the more unbelievable," Haas told the crowd of HeroHomes supporters gathered for Friday's dedication event.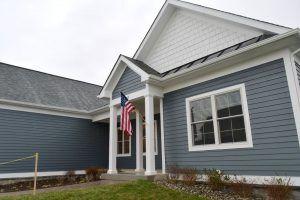 HeroHomes was founded last year with the mission of "building houses, jobs, and community for those who have fought for the preservation of freedom and democracy for others." Builder Jason Brownell spurred the effort after managing the construction of a home near Lovettsville for disabled veteran Tony Porta, made possible through a campaign led by the New York-based Stephen Siller Tunnel to Towers Foundation. Brownell thought the Loudoun community could do more. Aimee McGranahan and Matthew Lowers, who serves as HeroHomes president, quickly joined in. In January, Scott Gessay jumped in as CEO. All serve as volunteers. The team already has started construction of its
, and is in the
planning stages of its third, near Hillsboro
.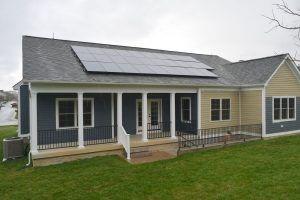 "Every time we need something it seems that someone steps up to help," Lowers said. "I think what makes this so successful is the community and the small-town feel. Everyone just comes together." Steve Jacobus said his team at Loudoun Valley Floors has signed on to help with all three HeroHome projects. "We just jumped on board and try to help out as much as we can," he said. "These guys were fighting for our country, this is the minimum we can do." https://youtu.be/uCHVE_agR_M