Before embarking on the annual Martin Luther King Jr. Day march through Leesburg this morning, a crowd gathered at the Loudoun Museum to formally dedicate a mural depicting local efforts supporting the Underground Railroad.
The mural was painted by Shawn Perkins, sponsored by former NFL wide receiver Santana Moss' 89 Ways to Give Foundation, and funded by the O'Shaughnessy-Hurst Memorial Foundation. It depicts Potomac River ferry operator Basil Newman and abolitionist Leonard Grimes on opposite sides of the river near the mouth of Goose Creek where Blacks fleeing slavery in the South were transported under the cover of nightfall to freedom in the North.
89 Ways to Give Foundation President Carmon Felder said the artwork tells a story she wasn't told while growing up in Leesburg. 
"I'm a native of Loudoun County and Leesburg. I went to Catoctin Elementary. I went to Simpson Middle School. When I went to Loudoun County High School, which was the only high school [in town] at that point. I think it was 4% Black people at that point, if that," Felder said. "And I had an amazing education. However, I never learned about the local Black history. It was one month, there was one chapter of Black history. I did not know about Basil Newman or the Newman brothers. I did not know about Leonard Grimes. And so when I learned two years ago, that these people made such a big difference. And that the Underground Railroad went right through downtown at the courthouse—I was amazed. But I was also shocked that I did not learn until I was in my, I'll say 30 plus 10 years."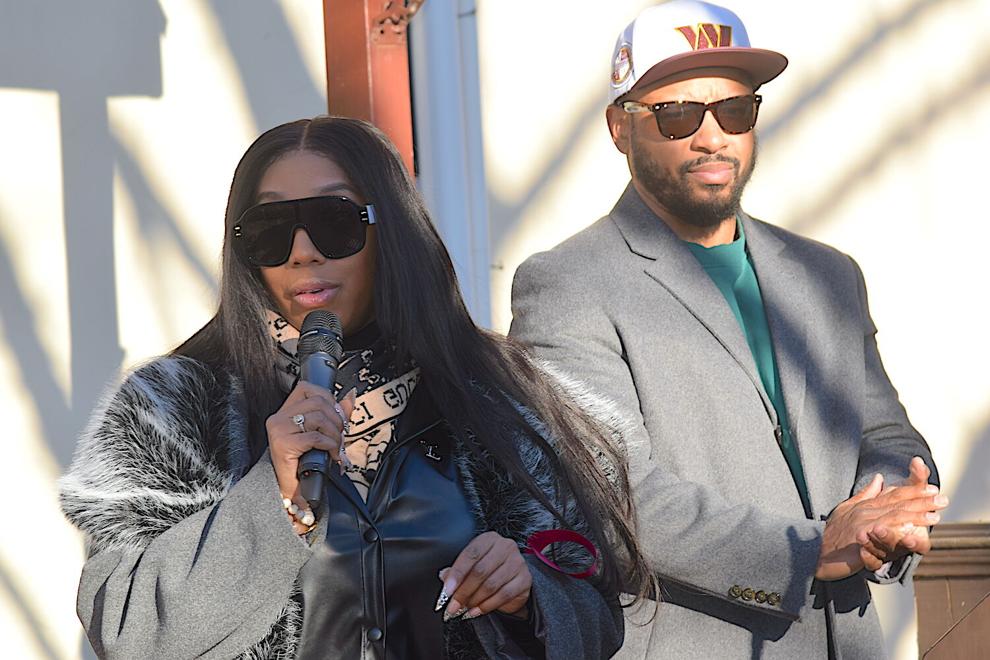 A public display of Black history its important, she said, while looking over a crowd that included many children.
"I see all these young faces, and it matters that they have representation. And they have something or someone that looks like them," she said. "We didn't have statues. We didn't have murals. And so Santana and I said, 'Hey, how can we pay homage to Black history and freedom fighters?'"
To answer that question, Felder and Perkins met with Loudoun NAACP President Pastor Michelle Thomas who took them on a tour through the land Newman owned, today's River Creek neighborhood, to see his gravesite and the former ferry landing.
"This being a black history mural it required a true historian to accurately portray the story we wanted to share," Perkins said of Thomas' help. "Her support and her knowledge of these Leesburg hidden figures played a vital role and helping myself paint the picture you see here today. Without the bravery and strength of Basil Newman and Leonard Grimes, among so many others who lived and breathed during this time of slavery, the story would not be known to tell."
Moss spoke to the students in the audience for the ceremony saying when he was their age he didn't understand the full importance of Martin Luther King Jr. and his work.  
"You'd heard a little bit about what he stood for, and his fight and what he was trying to make happen," Moss said. "Fast forward to now being a grown man to see that we still fighting and striving to be the people that we want it to be—as equal as we can be. That's what MLK stood for. That's what Martin Luther King fought for. To see that we still fighting that fight, it's amazing and it's crazy at the same time."
Deborah Piland, president of the O'Shaughnessy-Hurst Memorial Foundation that plans to provide funding for two additional murals, said the two-year effort to complete this work was worth it. 
"I hope it'll be a constant reminder that we have a lot more work to do here in our community, including the reformation of our justice, system, education, social welfare," she said. Let's march and think about those less fortunate without a voice, who are detained by the criminal justice system, in mental hospitals, homeless, or otherwise struggling with poverty and how we as a community are going to change this, this is only the beginning today."
Thomas said the work of Newman and Grimes reminded her that only free people can free other people. 
"I want you every time you cross this mural to think about it. There's something I can do to advance freedom. I don't care what it is. It could just be voting—you advance freedom. I don't care what it is. It could just be giving a hug, being kind—you advance freedom. Marching in this march—you advanced freedom. Showing up when others are oppressed—you advance freedom. We need to look at this mirror. … We need to understand that our journey to freedom didn't just end in 1865. We still fight and for today. That's why we're here. That's why this mural is so important."