Sixth-grader Cathryn Mills had to stand on tip-toe to reach the podium mic at the Loudoun County Board of Supervisors. She and more than a dozen other students looked out of place in their hoodies, T-shirts, and polo shirts in the board room, usually the domain of people in business suits, but they were no less well-spoken. "Dominion High School is not supposed to get a turf field until 2022, which is when I'll be a senior in high school," Cathryn said. "And if it's not scheduled to get a turf field until the summer of 2022, I will have already graduated and may never get to see that field." [caption id="attachment_4790" align="alignleft" width="300"]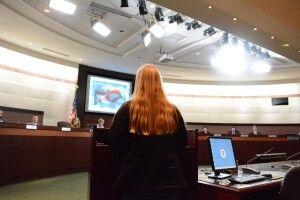 Dominion High School student athlete Camryn Mills, older sister of Cathryn Mills, faces the Board of Supervisors.
Renss Greene/Loudoun Now[/caption] She and 10 other students and parents asked supervisors to accelerate plans to install artificial turf at the last four high schools in Loudoun with grass athletic fields: Dominion High School in Sterling, Heritage in Leesburg, Freedom in Chantilly, and Briar Woods in Ashburn. The School Board's current Capital Improvement Program includes synthetic turf and track at Briar Woods in 2022-23, and Dominion, Freedom, and Heritage in 2023-24. The Board of Supervisors funds and approves the School Board's Capital Improvement Program, a road map for building priorities. This year, the Board  of  Supervisors faces a challenge, since the School Board's requested CIP is larger than the funds the county has available. Parents, coaches and students told supervisors that students at these four schools are being left behind. With grass fields unusable in many times of the year, teams are forced to either compete for time inside their school's gym—a much smaller space—or at other schools' artificial turf fields. [caption id="attachment_4792" align="alignright" width="300"]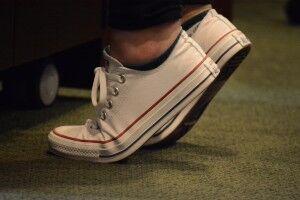 Seneca Ridge student Cathryn Mills stands on tip-toe to reach the podium mic during the public input session of the Board of Supervisors Feb. 2 meeting.
Renss Greene/Loudoun Now[/caption] "As a freshman, my team started out the lacrosse season without ever having set foot on an actual playing field," Bryce Griffin said. "Tryouts were held in our gymnasium. Practices for 60 athletes were held in one half of our gym, and that was on days we were lucky enough to get gym time." The players suffer in competition from not being use to the surface, and suffer in school when the time spent busing to other facilities and having to practice at odd hours of the night cuts into their sleep and schoolwork, he added. Griffin said during the lacrosse season last year, when the only time available at Evergreen Sportsplex near Leesburg was 9:30 to 10:30 p.m., he averaged 22 hours of sleep during the week. "When these kids are off practicing at all hours of the night, it's very rare, as a parent of a high-schooler, that you even get to see them during the week," said John Mills, father of Cathryn and two Dominion students. Teams which have been unable to get time at other schools are paying for field time at Evergreen Sportsplex, but that money comes from parents and booster clubs, not schools. Not every team can raise that much money. Seth Blackwell, Dominion girls' JV lacrosse coach, told the board his team pays $175 per hour to rent field space—which adds up to $7,000 over a season. He told the board about a recent fundraiser, when players raised $600. "I heard in my daughter's team group chat that the girls were really excited about possibly getting some new Nike pennies, with the cool colors and the patterns and names on the back," Blackwell said. "We dreaded having to tell them that the funds were paying for three hours of turf at Evergreen." Janean Buchner, president of the Dominion High School athletic boosters club, told the board the teams have collected more than 550 signatures on a petition. "We're not asking for an extra advantage or competitive edge," Buchner said. "We're simply asking for equivalent facilities and equal access."
Not So Fast On Artificial Turf
Supervisors, although sympathetic, had some difficult truths for the students. Supervisor Suzanne Volpe (R-Algonkian), whose district includes Dominion High School, replied to the complaint that another high school in her district, Potomac Falls, is getting an artificial turf field this year after
supervisors agreed to earmark $1.6 million
in leftover funds from last fiscal year for the project. "Yes, they will be getting a turf field," Volpe said. "They will also be getting modular classrooms, because they've been suffering from overcrowding for more than a decade without being addressed." She told the students about the run-down condition of the school, broken security doors, and rats in the hallways, and pointed out that the Board of Supervisors have no say in how the school spends its money. [caption id="attachment_4793" align="alignright" width="300"]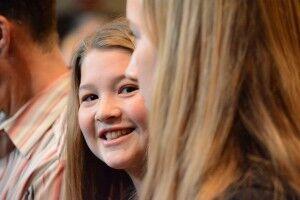 Cathryn Mills, surrounded by family, flashes as quick smile after speaking to the Board of Supervisors.
Renss Greene/Loudoun Now[/caption] Still, she said inequities in Sterling are one of the reasons she decided to run for office, and promised she and Supervisor Koran Saines (D-Sterling) would push the school board during the budget reconciliation process. "I will advocate, I will fight, I will push, I will beg, I will plead, I will do whatever I can to help," Volpe said. Other supervisors pointed out that the schools have bigger problems to tackle first. Supervisor Matthew F. Letourneau (R-Dulles) said the School Board is "in a tough position." "For myself and for my School Board member, we've made it a priority to try to relieve serious overcrowding in our schools," Letourneau said. "What is not fair is to have middle schools with student populations projected up to 1,900 students when they're built for 1,200." As is, the School Board's
adopted Capital Improvement Program
—which supervisors will take up as a funding request later this month—is $57 million more than the supervisors' self-imposed annual debt issuance limit. It requests money to build schools in the Brambleton and Dulles areas that both county and school leaders have agreed are desperately needed. "As we're talking, we should remember that these things that are being asked for have to be paid for by county taxes," Chairwoman Phyllis J. Randall (D-At Large) said. "So I just want everyone to remember that when that time comes." At the same time, an online petition to ban crumb rubber turf, the cheapest type of artificial turf, has collected 1,213 signatures from area residents, and a bill in the General Assembly would place a three-year moratorium on installing crumb rubber turf. (An identical bill was left in committee last year.) Some parents worry about reports that crumb rubber may be a dangerous carcinogen, although there is some debate over how dangerous it is. Whichever way the turf crumbles, supervisors admired the students' involvement. "I want to encourage you all to think about public service," Supervisor Ron Meyer (R-Broad Run) said. "Getting involved with your local community is a great start. It shows that you're dedicated, just by being here tonight." And Mark Bailey, treasurer of Freedom High School's athletic booster club, promised supervisors the fight was not over: "We will be back, we will have folks from Briar Woods, we will have folks from the other schools. It's important, we mean it. We're not going anywhere."