Leesburg voters returned Mayor Kelly Burk for a fourth two-year term Tuesday night. 
Burk turned back a challenge from council member Suzanne Fox, garnering 57.5% of the vote, according to preliminary totals.
Incumbent Neil Steinberg was the top vote-getter in the council races with almost 9,500 votes. He'll be joined on the council by two first-time candidates—Todd Cimino-Johnson and Patrick Wilt. John Spence and Colin Doniger finished out of the running for the three seats. 
Burk, Steinberg and Cimino-Johnson ran with the support of Loudoun Democrats while Wilt, Spence and Doniger were backed by the Loudoun County Republican Committee. 
Cimino-Johnson and Wilt will fill the seats held by Fox and Vice Mayor Marty Martinez, whose terms end Dec. 31.
Speaking to supporters gathered at the Doner Bistro on Tuesday night, Burk and Martinez lamented the negative tenor of the mayoral campaign. Martinez said Burk faced "mistruths and flat out lies."
"We came above that. I refused to let that be the narrative," Burk said. "Our narrative is that Leesburg was a great place to live because it is a great place to live. … It doesn't happen that way unless you have a mayor and council working to make that happen."
Steinberg said the mayor's race was critical this year.
"For me, keeping Kelly in the mayors chair was almost more important than me winning my race—almost," he said to laughter of supporters.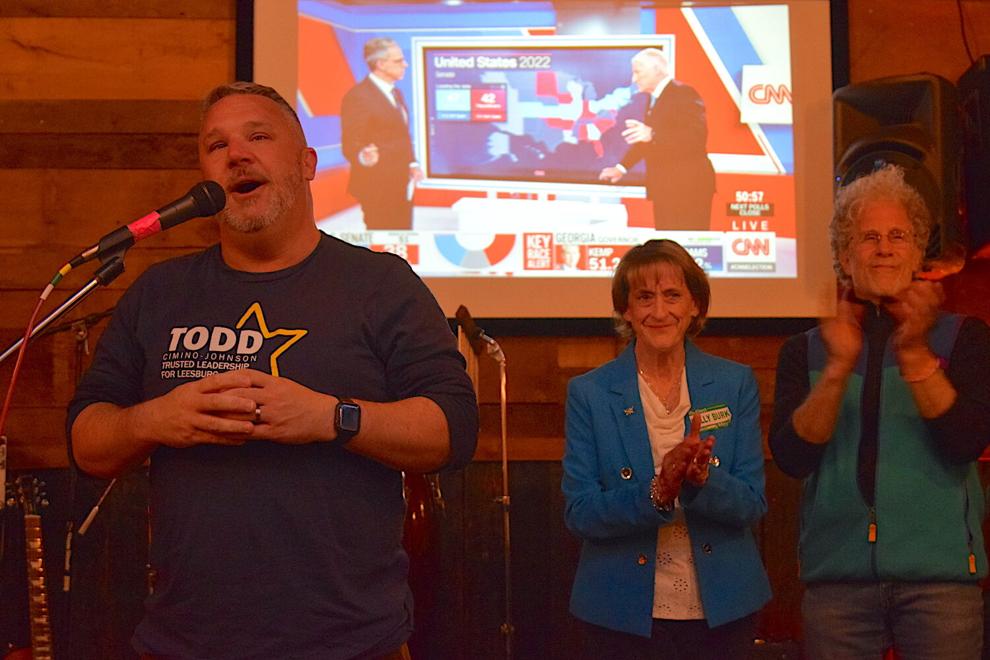 Fox, who served two terms on the council, including a stint as vice mayor, said she represented those who wanted change in the town government. 
"I ran a race I am very proud of. There were people out there who wanted some change and I felt that from the get-go and people invested in this and people helped out," she said. "I was willing to step up and do it and it didn't turn out the way most of us wanted."
It was the third election in which Burk faced a challenge from sitting council members. Two years ago, she defeated Ron Campbell by winning 72% of the vote. In 2018, she won 59% of the vote in a three-way race against Campbell and then-council member Tom Dunn.
It was Cimino-Johnson's first run for elective office.
"It was a great experience. It was a lot of work—a lot of work they don't tell you about," he said. "It's been great knocking on doors and meeting people and talking to them about Leesburg and what their concerns are."  
He said he plans to continue to be out there and talking with people in preparation for taking his seat Jan. 1.
While hosting the election night watch party for the Republican-supported candidates at his Black Walnut Brewery Tuesday night, Wilt declined to comment on the election.