By Martin Bonica
In 2021, the Northern Virginia music scene was joined by Amulet, who released their debut album "House of Black + White" and began performing in the DC area. 
The band, a collaboration between Liverpool-born guitarist MJ Phoenix and Loudoun-native singer Stephanie Stryker, is a self-described "dark alternative rock" band that embraces the goth aesthetic. Emphasis on aesthetic; the band doesn't follow a set-in-stone musical genre, with songs varying from hard rock ("Last Ditch") to industrial electronic ("Falling Down"). The album's followup, a standalone single called "Secrets and Lies," is a smoky jazz/lounge-inspired track.
This variety is part of the band's artistic vision. 
"When I think about 'goth,' I think about Bauhaus and Sisters of Mercy, and some of those sorts of bands," siad Phoenix, citing the glam and post-punk-inspired originators of the goth label. "They have some differences, but they have a sort of musical feel. I feel like goth has a musical feel and an identity, or visual feel. … if you go to a goth club nowadays, you'll hear that most of the music that's playing will be electronic dance music, or industrial, aggrotech, or one of these other more sequencer-based forms. The first album's definitely not in that vein, so it really depends on where you're coming from."
Beyond that, the band plays to its strengths. "In terms of writing the album, I did a lot of the musical parts of that, and I basically wrote it for Stephanie because I knew she'd be singing it," Phoenix said, describing their lyrical themes as generally "of conflicted relationships or somewhat political dissatisfaction of some sort." An exception is the album track "The Bauhaus," a fairly literal dive into the German art movement whose name was later adopted by the influential goth band of the 1980s.
"It wasn't really designed to be in a particular genre," said frontwoman Stephanie Stryker about Amulet's debut album. "It is kind of tempting sometimes, now that we've been in this for a little while, to 'genre-fy' ourselves because it's easier to sell that and hashtag it," she said. "I don't think we would be satisfied doing that, and being a genre band. Whatever it is we're inspired by, that's what we want to do."
Indeed, Amulet itself grew out of a cover band including Stryker, Phoenix, and collaborator Gavin Shire that primarily played corporate events. The group had been playing together for nearly 10 years when, in 2019, Phoenix was struck with the idea to create a concept album while trying to learn a Tom Petty song. The group started working on original material, and while a concept album never came to pass, the results turned into Shire's solo album "Channel Me" and Amulet's debut, "The House of Black + White."
"Even if we're not playing twenty of the best songs ever written in the history of music … I'd rather play the thousandth or ten-thousandth best song, and it'd be our own," Phoenix said of the decision to start writing original material. "There's something very different about getting recognition for your own art. There's something to be said about art not really existing until it's been consumed by somebody. You can say you create art, and you can do it inside of your own house, but it doesn't really feel like the actualization of art until it's somewhere between the artist and the consumer of the art. The full cycle of art requires both the artist and the audience."
"You're talking to yourself. There's no communication if there's nobody on the other end," Stryker said. "It's like when you go to a graduation ceremony and see all the kids, and say 'god, this is boring,' and then see your own kid, and you're like 'yay, great job!'"
Amulet's background is geographically complex. The album was recorded remotely with Phoenix in DC and Stryker in Dallas, but the band definitely grew out of DC. "We have to be a DMV band to qualify for the Wammies," notes Phoenix Tthe band, with its members in the DMV and album recorded in Herndon, certainly qualifies). In addition to the band's two founding members, the group expanded to include bassist Bob Carr, keyboardist Alison Freyja, drummer Thomas Grothe, and rhythm guitarist Damian Himeros, all of whom hail from the DC area. "HFStival was one of my first concerts, in the fall of '99," Stryker said. "I remember my brother was in a metal band; he played at Jaxx several times, and one of my friends was deep into the metal scene in Leesburg. All that is dead now, cause the venues are gone; we're just trying to find venues."
In fact, finding venues and establishing their live chops was a key objective of Amulet in the end of 2021. After expanding to a six-piece, the band began to feel out their sound with low-key open mic shows at venues like Jimmy's Old Town Tavern in Herndon and Rhodeside Grill in Arlington. "It was important that before we played shows at larger venues, that we got experience under our belts playing as a band," Phoenix said. Although they had been playing shows as individuals for over a decade, these shows marked the first time the six members of Amulet had gone onstage together. "A few more glasses shaking and plates rattling than normal, I think."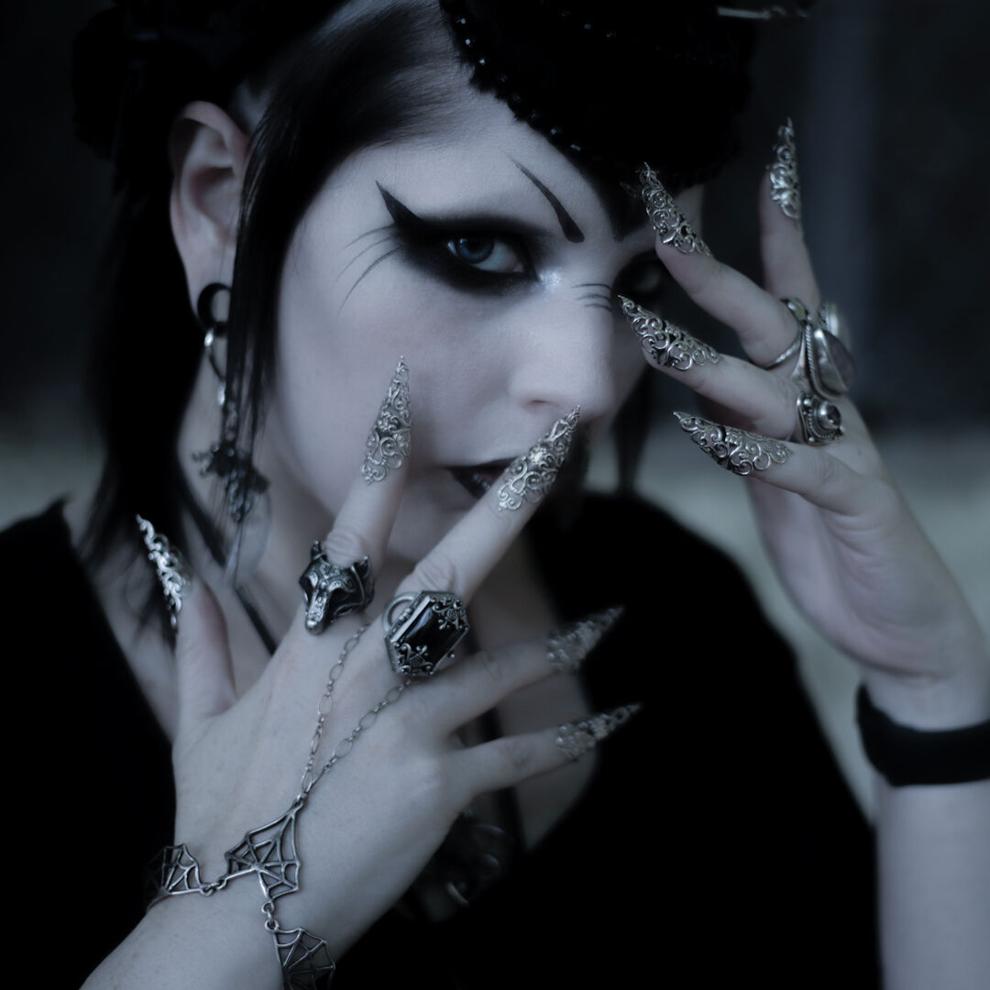 Amulet, with its six-piece electric loadout, has to be a bit more thoughtful about where to play compared with solo or acoustic acts. "We'd, like, blow their plates off the table," Stephanie said of an intimate restaurant or winery show. "We're not saying no; we'll play anywhere," Phoenix said. "All venues have great things about them." In particular, he cites a recent show at the Public Bar in DC. The venue was lined with TV screens. "We did a whole video screen takeover of the whole place, and you can change the vibe of the whole venue depending on what you put on the screen."
The band, with its newly minted live sound and album, is gearing up for a busy 2022, with a mini-East Coast tour alongside Talking to Shadows in the works. A remix album is coming out, as well as a music video for the album track "Clear Blue Sky". Beyond that, Amulet is considering its next options musically.
The band's circumstances have changed since the creation of their debut album. It was largely conceived during the COVID-19 lockdown period. "We were marooned, with nothing else to do," Phoenix recalled. He emphasized how much dedication songwriting takes: "Structuring the song and creating the actual product of a finished song is very, very different from coming up with a few ideas you can hum along to in the car." In addition to a different environment, the band itself is also bigger than it was. "We are literally just in the throes of figuring out how to collaborate with a larger group on songwriting," comments Phoenix on their new lineup. "In the process of learning, as a team, how to do that most effectively."
For now, the band has confirmed upcoming live dates in Wilmington and Ellicott City, and unitcode:machine has just released their remix of "Falling Down." 
The band's music can be found on Bandcamp and major streaming platforms, and it is active on Instagram, YouTube and Facebook; their website is amulettheband.com.