By Jan Mercker
For Loudoun chef Erik Foxx, it's all about relationships—with customers and with the local suppliers he's built close contacts with over the past decade. 
The longtime chef at Magnolias at The Mill in Purcellville is taking those relationships to a new model as the COVID pandemic rocks the restaurant industry nationwide. His new venture, The Polished Foxx, opened last summer and has ramped up in recent months with holiday offerings and partnerships with area wineries and breweries.
"I saw the restaurant industry changing before my eyes," Foxx said. "I wanted to make sure that after 30 years of doing nothing but hospitality that I continue to teach, to make my mark."
Foxx launched his new business last summer, with a focus on catering on both a large and small scale, including in-home dinners for private clients and holiday and family meals to go. The operation is based out of Leesburg's ChefScape food hall and shared kitchen space.
Foxx made the decision to shift gears after several challenging months of working to keep Magnolias afloat during the early days of the COVID lockdown.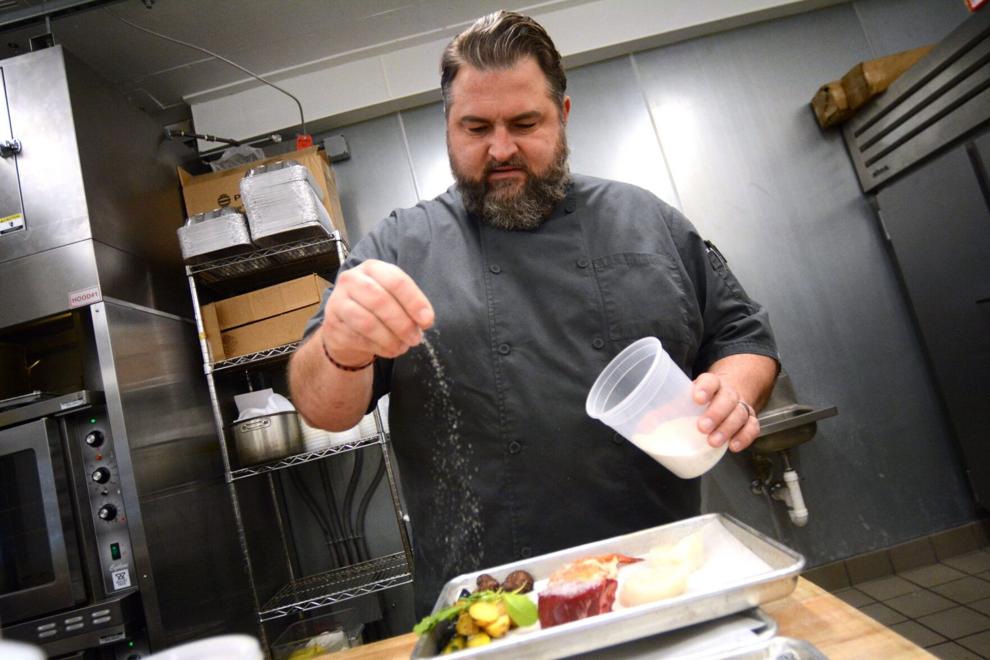 "It was very awakening, it was very challenging. … We decided as a kitchen team that we were going to do the work, keep food going, wash the dishes, do everything to keep the place in good standing," he said. But after months of intense pressure, Foxx had a lightbulb moment after an especially challenging shift. "I looked at the sky and said if I'm going to do all this, I'm going to do it for my family. I'm going to have more control over it. … I wanted to be mobile and do my thing and really market the county as a place where you can get the best of the best."
Foxx created his company early in the summer and left Magnolias at the end of August. The Polished Foxx offers traditional large-scale catering, but also moves into the COVID-inspired niche of private dinners—for two or 20—and embraces the carry-out family meal trend that has surged in the last year. Working with the LoudounGo local shopping marketplace, Foxx has also emerged as a leader at the ChefScape food incubator, as tenants seek to breathe new life into the space. This weekend, Foxx launches a new pop-up the Foxx on the Rocks Raw Bar & Fishmonger, serving seafood dishes, including oysters on the half shell, blackened gulf shrimp, scallops and mussels.
Foxx grew up in southern Maryland before moving to Northern Virginia as a teen and scoring his first restaurant job at the Fuddruckers in Herndon, which his father opened. At the time, Fuddruckers was a new concept in the fast casual movement, a burger joint known for grinding its own beef and baking fresh buns. The from-scratch approach immediately appealed to Foxx. He then moved onto a kitchen manager job at the Herndon Outback Steakhouse, the chain's first location in Virginia, before snagging a gig with the Hyatt Regency hotel chain, another significant step in his culinary training.
"I was able to bounce around from hotel to hotel and learn classic techniques," he said. 
Foxx went on to earn an associate's degree for the business side of his career but emphasizes that his culinary training is 100% self taught on the job.
"Within the kitchen, everything was trial and error and being able to learn from some great folks," he said. 
As Foxx moved west into Loudoun, he got his first head chef job at the old mansion house at Leesburg's Carradoc Hall, then moved on to run the kitchen at Andy Ghuzlan's now-closed Bacchus Cafe in Leesburg. 
"That was my first laboratory … and it was off to the races," Foxx said.
Foxx caught the attention of DC-area celebrity chef Robert Wiedmaier, owner of DC's Brasserie Beck and numerous other DMV hotspots, opening several restaurants for Wiedmaier's group. But when the management of Tuskies Restaurant Group called after longtime executive chef Mark Marrocco left Magnolias to start Leesburg Public House, it was an offer Foxx couldn't turn down. He had moved to Winchester with his wife and four children and couldn't pass up a juicy opportunity to ditch the commute and focus on all things local. 
"When I realized I could change my work environment from concrete to the Shenandoah Valley and spend three hours less in the car— which meant three hours more with the family—it was kind of a no brainer," Foxx said. 
Foxx worked to expand on Magnolias' reputation for bringing upscale but approachable cuisine to western Loudoun and build relationships with local farmers.
"I really got an idea of what western Loudoun means to people from a food standpoint. I was able to kind of push the envelope a little and bring everybody along. At Magnolia's you have to have a menu that supports the son that's visiting from DC but also the grandma who's lived here her whole life," Foxx said. "It really taught me how to do more. It taught me how to take on more."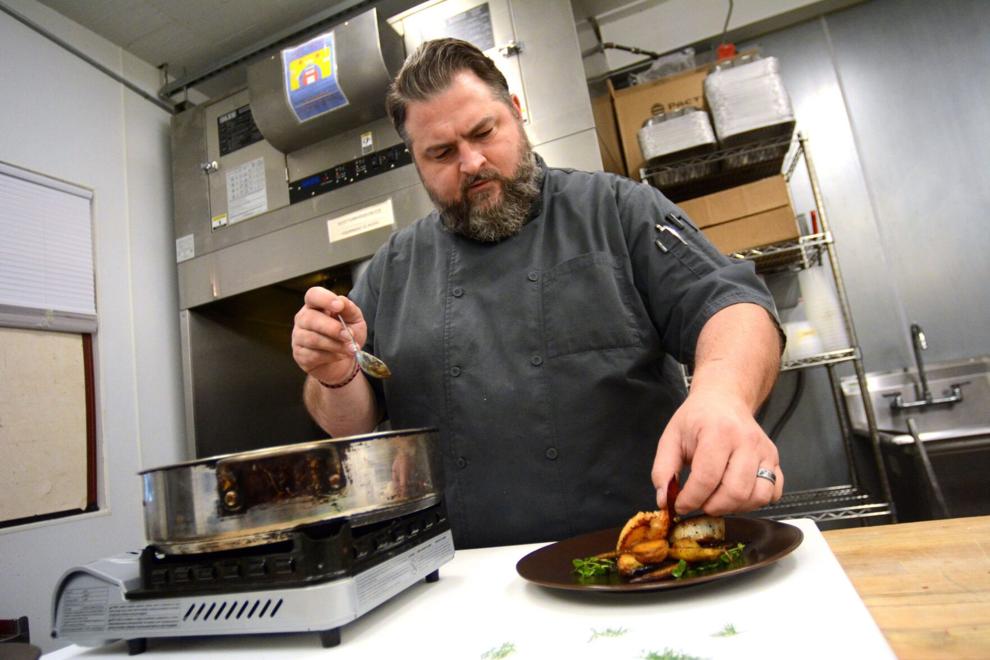 Foxx also developed his passion for sourcing local, connecting with local farmers and incorporating their products into his cuisine, balancing the appeal of farm to table with the higher cost of locally sourced ingredients. 
"Being at Magnolias allowed me to learn how to buy more expensive products and still remain profitable," he said. "I just became an extension of the farmers."
And local sourcing remains a priority at The Polished Foxx.
"Sourcing locally is a trend. It's always been for me. I really wanted to make sure that I could still embody being a stream for local producers through me to the customers," he said. "Our support comes from the community, which means our support needs to go to the community—whether it's the company that makes my T-shirts or farmer David who grows my microgreens. All that money should go back into the community that we're in."
Reducing food waste is another of Foxx's passions. He's developed partnerships with Winchester area nonprofits serving children and the homeless and Purcellville's Tree of Life food pantry to distribute his own food overage. And as home cooks take advantage of pandemic downtime to hone their own cooking skills, Foxx recommends an intentional shift to mindful shopping. He encourages home cooks to reevaluate the contents of their pantries, donate items they won't use to local food pantries and move forward with a plan to reduce food waste.
"Being smart about planning out your purchases is where that starts. If you purchase with a plan, you end up with a much more efficient and fresh dinner, lunch, breakfast whatever it is," he said. "Make sure you're feeding your family ingredients you feel good about."
For more information about The Polished Foxx and upcoming Foxx on the Rocks pop-ups, go to facebook.com/thepolishedfoxx or thepolishedfoxx.com.