"She thinks she knows all about him, this officious elder brother of her best friend from childhood. He regards her as a scatterbrained schoolgirl. When the parents insist he escort her to her debutante ball, neither are pleased. The evening begins a long discovery which can only end with them in each other's arms and the bond of a passionate love."
Thus reads the promotional introduction to "An Unreasonable Daughter," the latest work by Ashburn's Janet Taliaferro.
At age 90, she's believed to be the oldest active romance novelist in the U.S. It's a title she embraces as she continues to pursue her passion for writing and poetry after retiring from a career in political campaigning and running the family business.
The Oklahoma City, OK, native first moved to Northern Virginia in 1967, when her husband joined the staff of the National Advisory Commission on Civil Disorders following the Washington, DC race riots that summer. Their one-year assignment turned into a 15-year stay as they raised their family here. Building on her activism in the civil rights movement and with Planned Parenthood, she worked on political campaigns—most notably those of Northern Virginia's three-term Congressman Joe Fisher. They moved back to Oklahoma in 1980, when she took over her family's commercial real estate and oil and gas business. 
Finding herself with free time, Taliaferro enrolled in the University of Central Oklahoma and earned a master's degree in creative writing—pursuing a new passion at age 55. Her master's thesis was a collection of stories that landed the Geoffrey Bocca Memorial Award for Graduate Writing.
She then spent years working to get published, submitting stories to magazines across the country. Entering a Redbook contest, she was told her piece barely missed the cut among the thousands of entries received. 
"They picked 12, you know, and I got a lovely letter back from the editor saying that mine was 16," she said. "But she liked the way I wrote, so I submitted a couple of other stories. One was a Christmas Story, which they said was too dark for them. And then they took a story. And the fiction department took one, and then the senior editor pulled it. Getting nice letters back, but never winning anything after that was sort of my M.O."
After unsuccessfully trying to find an agent and a publisher, she released her first book, A Sky for Arcadia, as a print-on-demand novel. 
"Oddly enough, it sold quite well for an indie. It had to do with the recovery from addiction, and there was a treatment center that would buy them in great quantities because they gave them out to the women when they left," she said.
That was followed by books of short stories and poetry. Her 2011, novel, "Virgin Hall," explores the lives of women coming of age in the 1950s.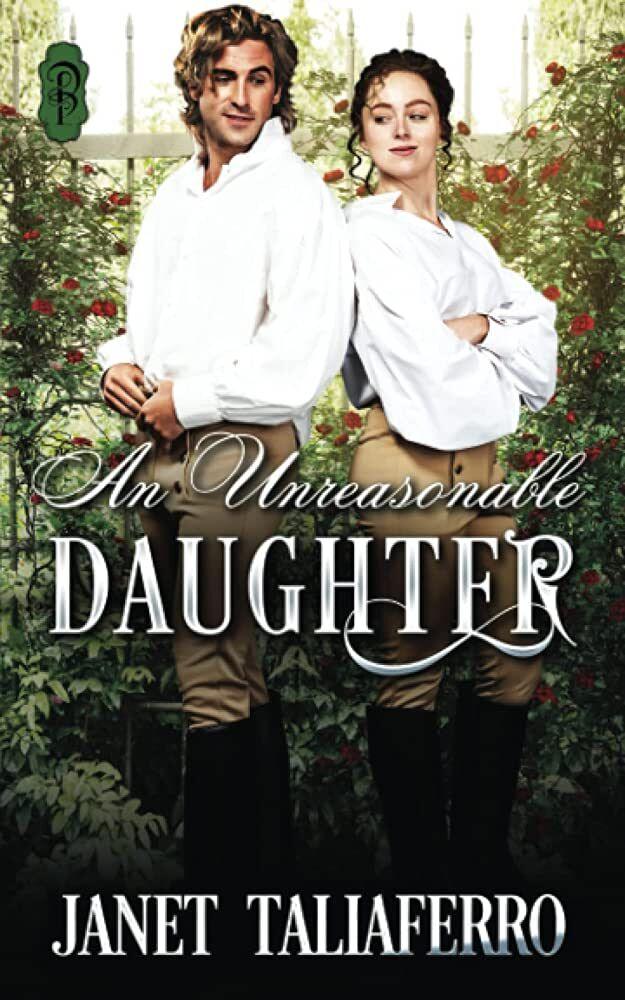 After that, Taliaferro had figured she'd finished her writing career. Then COVID hit. 
"I was in our apartment, and I thought, I'm going to go crazy if it's just me and the television," she said. "I had two and a half chapters of a Regency historical novel on my computer. I dug that thing out and thought, 'I'll see want I can do.' So I wrote it."
"A Reasonable Lady," a romance novel set in early 19th century Britain, was published in 2021.
Her latest novel, "An Unreasonable Daughter," follows the same family 18 years later, during a period of social and political reform including the abolishment of slavery and the adoption of child labor laws.
"It's fascinating time in British history," she said. 
Her interest in historical fiction is life-long.
"I love Jane Austen. My daughter loved to read romance novels, and when she got through, I used to read them," Taliaferro said. "I grew up in the days of the historical novel, you know, 'Captain from Castile' and all those wonderful historical novels that people wrote in the '30s, '40s and '50s. So, I grew up reading that."
Taliaferro has a few more novels in the hopper, although she's not certain they'll be published. She also has held a writing workshop for other residents living in her community, Waltonwood Senior Living in Ashburn.
She also continues her passion for social justice. During her book signing appearance at Barnes & Noble in One Loudoun on Saturday, proceeds from sales will be donated to Educando Con Amor, a Leesburg-based program offering bilingual literacy initiatives for children and teens that is organized by St. Gabriel's Episcopal Church.
"It's a spiritual lift for me," Taliaferro said of her writing. "I'm no different than anybody else. It's kind of hard to get started, but once you do, yeah, it's very satisfying."
Meet Janet Taliaferro on Saturday, May 20 from 1 to 4 p.m. at Barnes & Noble, 20427 Exchange St. in Ashburn. The book-signing event is organized by Adventures by Waltonwood, which showcases how seniors are empowered to follow their dreams and share their stories. Learn more about Taliaferro and her work at janetmtaliaferro.com.