Golden streamers rained down on Ashburn's Mary Kate Connor on Tuesday night to celebrate her progression into the Playoff Round on NBC's "The Voice."
The 18-year-old Stone Bridge High School student's journey on Season 23 of 'The Voice' began airing in mid-March. Her audition earned her two chair turns, and she progressed to the Battle Rounds with Blake Shelton as her coach.
For the Battle Round, Shelton paired Mary Kate with close friend and fellow Team Blake member Kylee Dayne. The two worked with Shelton to create a duet of Taylor Swift's chart-topping song, "Anti-Hero."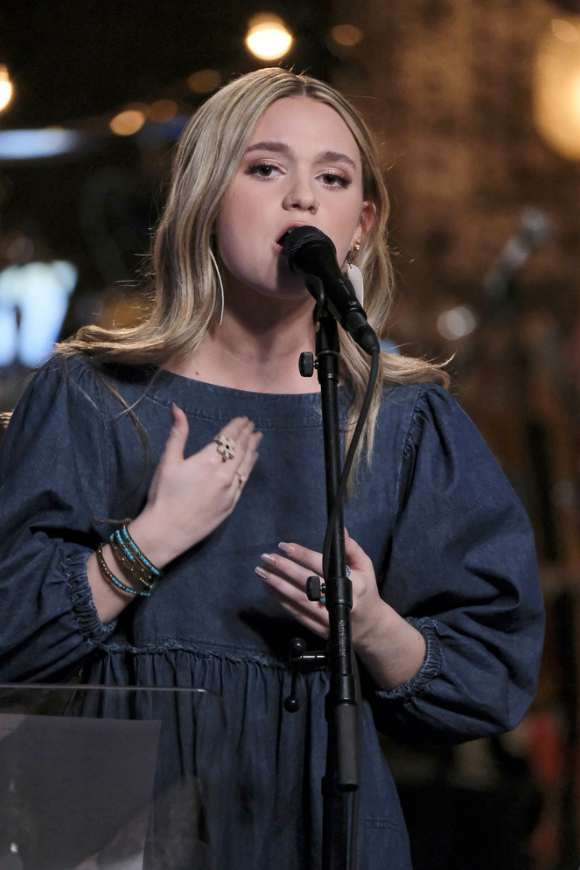 "The song talks a lot about insecurities. I can just relate to that a lot," Mary Kate said during a pre-performance interview on the show.
"I've grown up with really bad anxiety, especially when it comes to my performance and my looks. So this song is important for me to be able to sing and be able to share with everyone because I think that a lot of teenage girls struggle with the same kind of things."
None of those insecurities showed during her performance. Mary Kate delivered "angelic" vocals and displayed a "breathtakingly beautiful" passion for music, as described by the coaches.
Alhough Shelton selected Kylee Dayne as the winner of the Battle Round, Mary Kate arguably received a greater prize: the "Playoff Pass."
The "Playoff Pass" is a new advantage to this season, allowing each coach one opportunity to have an artist from their team bypass the Knockout Round and automatically progress to the Playoff Round.
"[Mary Kate is] ready for this as a vocalist and as an artist. So, I just wanted to send her straight to the Playoffs. She's going to go deep in the competition, you watch," said Shelton during the show.
Mary Kate will be one of the 20 artists in the Playoff Rounds which begin airing on May 1, and is one step closer to the chance of performing in the live shows.
Watch Mary Kate's full Battle Round performance, and follow her on Instagram @ylashburn