Khai Nguyen is a perfectionist. After decades in corporate America, Nguyen's search for the perfect bowl of pho led him to launch his new business, Pho From Home, serving up a from-scratch product that captures the magic of a beloved restaurant favorite. 
A longtime foodie and amateur chef, Nguyen decided last year that it was time to take his passion for the aromatic Vietnamese soup to the next level. He spent months perfecting his craft, using locally sourced ingredients and a series of innovative techniques he developed to cover a longstanding challenge: making delicious pho that's easy to take home.
"I'm obsessive about details," Nguyen said. "It's not just the ingredients, it's the process."
Nguyen was born in Vietnam and immigrated to Canada as a child as his family fled the war in his home country. Food was an important part of life for the refugee family of seven, including his mother and six siblings.
"My mom's a great cook, and food is a big thing with our family," Nguyen said. "My mother would pinch pennies, but when it came to food, she didn't take shortcuts. I got that sense of a very healthy respect for food at an early age."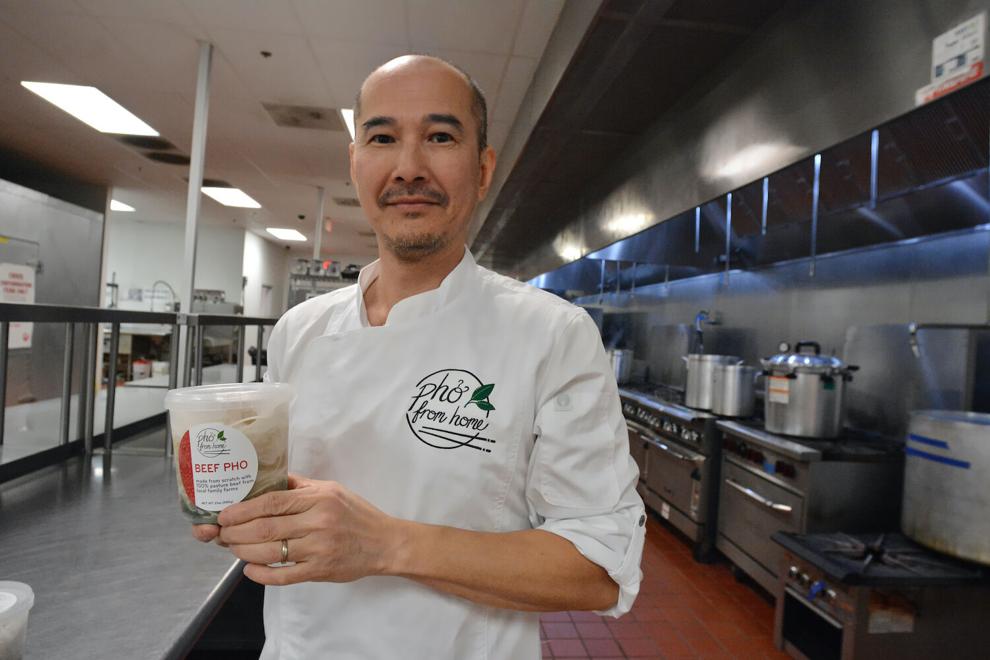 Nguyen's work life took him around the globe and expanded his culinary excellence. While working for the United Nations High Commissioner for Refugees in Hong Kong, he met his wife of 26 years. On one of their first dates in the early '90s, Nguyen decided to cook dinner for his new love interest. On a tight budget in the pre-smartphone world, he went into a bookstore to memorize a recipe but got the proportions wrong, adding a full pound of butter to the dish. She married him anyway. The couple moved to New York in the mid-90s, and Nguyen took a job on Wall Street. For his 30th birthday, his wife gave him a gift certificate for a cooking class at an NYC culinary school.
"I learned the basic techniques of French cooking: the vessels, the utensils, the cooking methods. … It was a fantastic class. I still use those techniques today," he said. 
After their first child was born, Nguyen moved his family to Reston in 2000 to be closer to his wife's family. Nguyen continued his corporate path working as an executive for telecommunications companies. Last year, Nguyen took the plunge and left his job as a vice president with Verizon to pursue his passion. He officially launched Pho From Home in November after spending six months in the kitchen "improving my process and working out the kinks."
"It's a real change," Nguyen said. "This is the first time I'm cooking food for others outside of friends and family. It's been a wild ride."
Several factors coalesced to inspire Nguyen to follow his culinary dream. The initial spark was lit when Nguyen's son mentioned his dream of eating pho every day, inspiring his dad to embark on a quest to create a high-quality transportable product. Nguyen is also not shy about sharing his opinion that many DMV pho restaurants are a letdown.
"I have extremely high standards and I've been disappointed with every single restaurant I've been to," he said. 
The pandemic and shifts in dining habits offered the final push. The early days of the pandemic meant more time in the kitchen for Nguyen, allowing him to hone his craft and business plan. He also saw a need for great tasting pho that diners could take home and heat up. 
"I felt that there's a need for this product," he said. "I thought people wanted a great product at home at a fair price, convenient and without any compromises on quality or flavor."
Nguyen currently works out of a shared commercial space at Frontier Kitchen in Chantilly but hopes to find his own space in the near future. He offers free pick-up from the kitchen during traditional business hours and limited delivery and opened a booth at the Eat Loco Farmers Market earlier this month.
Nguyen makes his product from scratch and sells it frozen. This has meant dispelling a couple of longstanding myths about pho, including the perception that it doesn't travel well.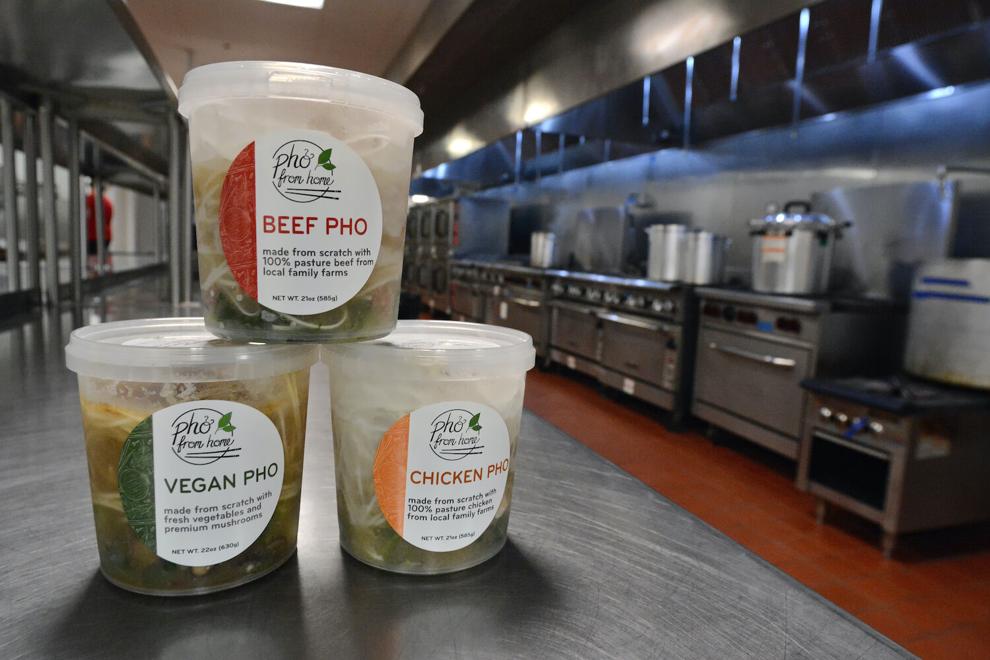 "Pho traditionally is meant to be eaten right away," Nguyen said. But he uses an exacting and labor-intensive process to craft his products, with a focus on keeping the broth clear and the noodles firm from kitchen to freezer to table.
"It's thinking through the whole entire process end to end: how I prepare the noodles, how I freeze the products, including blast freezing, how I deliver in well-insulated bags." Always the perfectionist, Nguyen spent months doing research to find the right BPA-free containers that are microwave and freezer safe.
Nguyen sells three varieties: beef, chicken and vegan, priced between $12.95 and $14.95 for a 22-ounce container. All of his pho is made using locally sourced ingredients. He's buying grass-fed beef and pasture-raised chicken from Joel Salatin's Polyface Farm in Augusta County because of the farm's Northern Virginia delivery schedule. Nguyen takes special pride in his "truly vegan" recipe, instead of simply adding vegetables to a chicken stock base.
"Vegan for me is not an afterthought. It is its own unique star of the trio. It's not a second fiddle to the other two," he said. "It has its own unique flavor profile to take advantage of the vegetable flavor."
Nguyen is also dispelling the myth that tasty pho requires the flavor enhancer MSG.
"Restaurants in many places use MSG in replacement of good bones and meat. I use a lot of bones and meat, so my flavor does not require added MSG," he said. "That's the bottom line"
Handmade bone broth is at the heart of Nguyen's products and taps into growing consumer interest in the health benefits of bone broth.
"The magic is the amount of time that's required to cook the bones to extract the nutrients and minerals. That's another reason I wanted to use grass-fed beef and chicken that's free from chemicals and growth hormones, Nguyen said. "Those things accumulate in the marrow, so I want to have none of that. Good ingredients make better food."
With a few months of operations under his belt, Nguyen is working to build community with his presence at local farmers markets and a relationship with the South Lakes High School food bank.
"I want to create a local community that's centered around food. I buy locally. I support farms that raise their animals humanely and sustainably…Part of the ecosystem is food insecurity that many families in our area experience," Nguyen said. "I wanted to do my part in serving healthy, tasty food. I'm not foolish to think I'm going to change the food industry with what I do, but I can do my part."
---
Khai Nguyen's Pho From Home offers free pick-up at Frontier Kitchen in Chantilly Monday through Friday from 9 a.m. to 5 p.m. and limited delivery within 20 miles of the kitchen. Loudouners can also find him at the Eat Loco Farmers Market at One Loudoun Saturdays from 9 a.m. to 1 p.m. For more information, go to phofromhome.com.