Thirty years ago, agritourism pioneers Kate and Mark Zurschmeide launched Great Country Farms in Bluemont. Now, a new generation of Zurschmeide cousins from the sprawling Western Loudoun clan are taking on leadership roles at the farm and its sister craft beverage operations—with fresh ideas and big plans.
Kate and Mark's daughter, Hailey Zurschmeide, and her cousin, Andrew Taylor, were born in 1993, the year GCF was launched. The 30-year-old cousins have both taken on pivotal roles in the family business.
"If we were to hone in on our focus, it's really that family experience and connecting people to the farm again, getting them out here, getting fresh air and all of that. Loudoun's different than when we started," Hailey said. "This is a really great way for us to refocus energy on the on-site experience."
Hailey, who grew up on the farm, is the family business's chief vision officer, charged with making sure the farm works smoothly with its nearby sister properties: Bluemont Vineyard, Dirt Farm Brewing and Henway Hard Cider. Andrew, who grew up in nearby Round Hill, is general manager of Great Country Farms. Like many of the cousins in their generation, both started out helping with pony rides and kettle corn as kids.
Hailey and Andrew said they didn't necessarily envision going into the family business. Andrew graduated from Christopher Newport University with an economics degree and Hailey is a Virginia Tech grad. 
"I don't know if either of us thought we would be where we are now. It kind of came to fruition as we were both in college," Hailey said.  
It was an hours-long conversation during a drive back to Virginia after a family reunion in Indiana during their senior year in college that the spark of returning to the family farm was lit.
"We were so jazzed about what they were doing out there and the opportunities we had in the year we were graduating—so much so that we took a wrong turn and ended up in Tennessee rather than Virginia," Hailey said. "I think that's when we were both starting to envision what it could look like as the next generation coming in and what kind of things were important to us."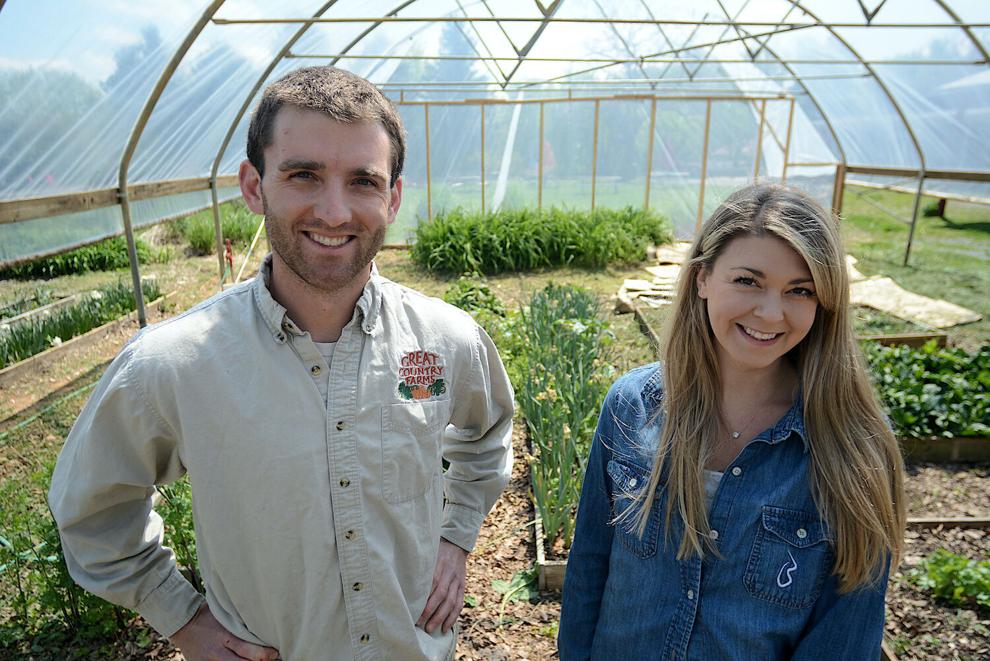 For Andrew, the idea of farming as a career dawned on him as a college student. 
"I never thought of this as a unique experience growing up until I went to college and realized not everybody grows up on a farm," he said. "I could either go away from it or I could embrace it. It's the best life. I love what I do. I think people chase that their whole lives."
Andrew started out running the farm's CSA program after college and moved on to orchard management before working his way to the GM spot. Since taking over farm operations, he's overseen a shift in focus to the agritourism experience.
"What we were witnessing was that people weren't coming for the food itself, but the experience," he said. "I started realizing that with our sunflowers, people were coming for the feeling that they're having walking through the sunflower field, to get the picture for Instagram. It's a family event."
Andrew, who is the father of two young children, has helped ramp up innovative family-oriented fun at the farm, including educational farm play and a farm ninja obstacle course. GCF will be adding a splash pad this summer to boost the experience for young visitors. This year, GCF has let go of the CSA program that got the farm up and running in 1993 and shifted to on-farm pick-your-own and family-oriented experiences. 
"We're kind of at the point now where we are our own customer," said Andrew, who loves experiencing the farm through his 4-year-old son's eyes "Since we've had kids, my perspective on the farm has changed. It's kind of like a nonstop experiment. I'll see a trend and I'll say let's try it."
Andrew has also moved the farm in the direction of regenerative and sustainable farming practices.
"You start looking at that next generation and it makes you realize you're not trying to just get by this year, you're really trying to build for the future and that really starts with the soil. We're confident we're offering a better, healthier product to our customers too. We have been in the community for the last 30 years. We want to make sure we're going to be here for another 30 years," he said. "At the end of the day, we're just stewards of this beautiful property in Loudoun County. It's our job to take care of it."
Meanwhile, as the family-owned business has expanded to craft beverages over the decades, Hailey focuses on keeping the farm and craft beverage businesses working in harmony. She started as the wine club coordinator at Bluemont Vineyard and took over as the winery's general manager before moving into her current role.
"We had a really cool opportunity to look at how the businesses can better support each other. What product lines can we expand on by having a focus on the farm?" Hailey said.
This year, the Zurschmeides are expanding their winery operation to Texas. After one cousin spent time in Austin, the entire family fell in love with the surrounding Hill Country. Bluemont Vineyard Texas opened last month, and Hailey's sister, Carly Zurschmeide, will head to Austin to run it after graduating from Virginia Tech this spring. 
"We realized there's this really cool wine community there. It's very different from here. It was a community we wanted to be a part of," Hailey said.
Running the farm and the sister properties has always been a family affair for Kate and Mark and the six GenX Zurschmeide siblings who grew up on a farm near Lincoln—and their 19 millennial and Gen Z children, several of whom now have children of their own. Hailey's brother Nick works for Bluemont Vineyard on the culinary side, while her brother Jake works in vineyard operations. Another cousin Sean Zurschmeide oversees construction projects on the family properties. Around half of the 19 cousins in Andrew and Hailey's generation work for the family business, but everyone pitches in on busy weekends when help is needed—from driving a tractor to selling doughnuts. 
"Everyone's involved whether they want to or not," Andrew said. "You've got to laugh every day. If you take yourself too seriously out here, there'll be a cousin ready to make fun of you."
"I think the biggest thing is to recognize that everyone brings something to the table, whether that is like Andrew and I putting our full time or [family members] coming in and being that saving grace as needed," Hailey said. "That openness and recognition among the family that everybody is bringing something to the table."
For more information about Great Country Farms and upcoming events this spring and summer, go to greatcountryfarms.com.