For two decades, Leesburg Hobbies and Collectables has been a destination for train enthusiasts, model builders, young rocketeers, and Boys and Girl Scouts. The store will close next month, ending a retail adventure shared by three generations of the Craig family.
The business started around the Craig family's kitchen table.
"Bill and his father [Mike] decided they wanted to do something in retail and his father wanted to do a hobby shop. So that's what they did. And they did it for 21 years," Grace Craig said Friday as her children and grandchildren gathered at the West Market Street store to prepare for the upcoming weeks of closing sales.
Bill Craig said he was living in North Carolina when he told his dad, a newly retired electrical engineer whose career included work on nuclear power plants and NASA space shuttle cockpits, that he wanted to start a business.
"We sat down at the house in Leesburg and sat at the kitchen table and just worked through different ideas. It was going to be between a hobby shop and a coffee shop," he recalled. "We just really game-planned what we wanted to do. He had had trains when he was a kid and we decided to go with the hobby side of things."
His mother was a supporter of Bill's venture.
"He was in North Carolina, and I wanted him to come home," Grace said.
That was the start of a 21-year run for the family business.
At the beginning, model trains formed the core of the business, along with model kits, paints, and rockets. Soon they added a Boy Scout shop and then a Girl Scout shop, becoming a destination not just for rare trains or hard-to-find rolling stock, but also for uniforms, badges, and camping supplies.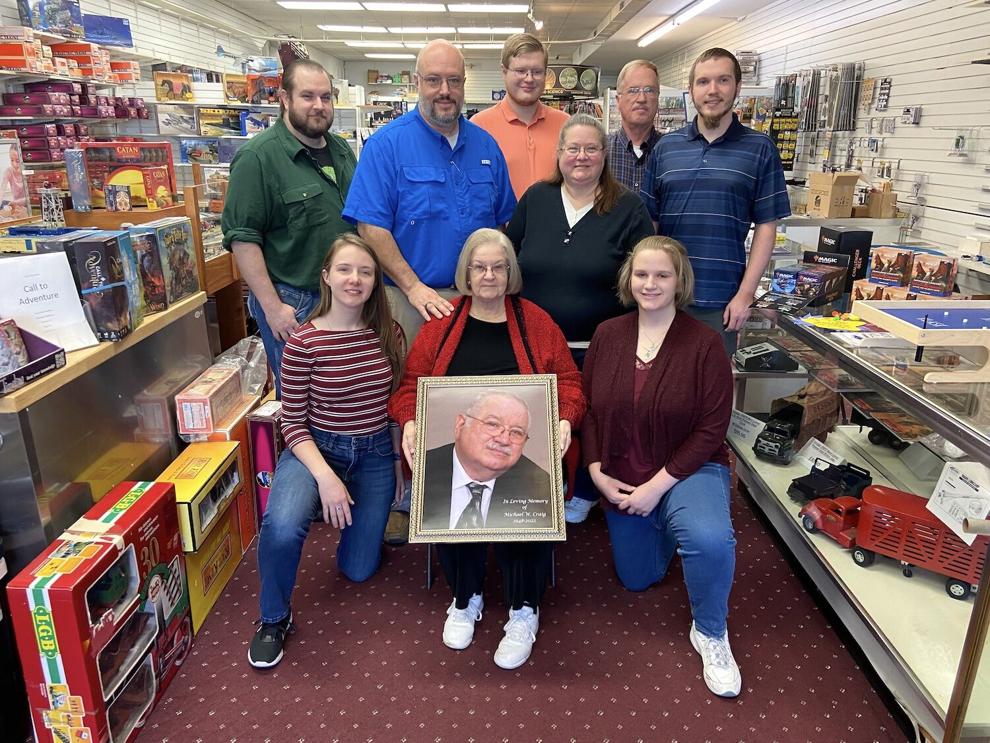 Mike Craig, who died in July at age 74, had been a scoutmaster in Dale City and dedicated 35 years to scouting. Bill and his brother Charlie both reached the rank of Eagle Scout.
"We grew the Boy Scout side to the point that for a while we were the number one retail store in the country. We did really well and made a lot of great connections doing that," Bill said.
The business has diversified over the years. At the start, about 75% of the business focused on trains.
"It's actually seen a little bit of a shift. It started with trains and then that industry slowed down a bit. We see a lot more people doing general hands-on hobbies. We do well with the models, the model rockets. Our gaming community grew up and we have more of those," Bill said.
The store also was a place for hands-on learning, offering workshops on model building and painting and building lots and lots of pinewood derby cars. The family also designed train layouts, including displays at the Leesburg Wegmans store and some that were published in train magazines.
The decision to close the store comes five months after Mike Craig's death and a realization that continuing to run the operation is too much for family members with other jobs. Bill's a tech ed teacher at Tuscarora High School. His sister, Christinia Gutshall, teaches at Woodgrove High School. His brother Charlie is looking to get more into computer work.
"I think every one of my Dad's grandkids [four of them] have worked here at some point. It is very much a family thing," Bill said.
That generational connection applied to their customers, as well. Bill said that many of the kids they served years ago are now bringing their children to the store.
The Craigs hope to see more of them in the weeks ahead.
"I'd like to see some of our Scouting community—even if they don't have scouts anymore—to come by and say hi," Gutshall said. "Some of them we used to see every month or every couple of weeks and it is really nice to connect with them and see their children."
While family members said they know closing the business is the right decision, the change won't be easy.
"The business has run its course. Twenty-one years is a while," Bill said. "It means we won't be around the community as much, which we'll miss. Leesburg was very kind to us. We'll miss the people."
Leesburg Hobbies and Collectables is located at 9 W. Market St.