If Loudoun supervisors can't find a legally sound basis for overturning the Planning Commission's decision to allow a two-story, 160,000-square-foot telecommunications center on top of Short Hill Mountain by June 23, the western Loudoun viewshed may be changed forever. Once the Planning Commission makes its decision on a commission permit, such as the one submitted for the AT&T facility on Short Hill, the Board of Supervisors has 60 days to act. If it doesn't overturn the permit, the permit stands automatically. If it does, it has to be ready to defend its decision in court. [caption id="attachment_14761" align="alignright" width="300"]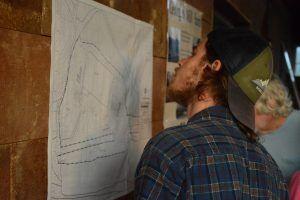 Residents from around Short Hill Mountain give AT&T plans careful scrutiny during a meeting hosted by Sam Kroiz at his family's barn at Georges Mill Farm. (Renss Greene/Loudoun Now)[/caption] "When this application became a commission permit, that basically put it on a trajectory to be approved," said Catoctin District Supervisor Geary M. Higgins (R) at a recent community meeting in the barn at Georges Mill near Lovettsville. He promised an increasingly agitated gathering that "there's no stone that's been unturned" as he and County Attorney Leo Rogers try to find a legal basis for overturning the permit—and in the meantime, Higgins says he is pressing AT&T to commit to more mitigation to make the building less visible. "The issue we're dealing with right now is two tracks: Either get them to mitigate it or find legitimate reasons within the comprehensive plan to say that these are the reasons we deny it," Higgins said. The community has taken to that task with alacrity. The commission permit process requires that the application fit the county's comprehensive plan—which explicitly lists "the slopes and ridges of the Blue Ridge, Short Hill, and Catoctin mountains" as "green infrastructure that not only add beauty to daily life and document the County's past; but are also an essential component of the tourism industry and the rural economy," as pointed out by Tina Cheatham in the very active ShortHill Rescue Facebook group. Chris Van Vlack, who works for the Loudoun County Soil and Water Conservation District, said that when he visited the site last fall, it appeared to be abandoned, meaning the project would not be a continuation of the facility's old use as a communications substation but a new use. The facility was built in 1963 as a microwave communications site; FCC records show that microwave licenses on the mountain, which weren't set to expire until 2020, were cancelled in October 2014 and February 2015. Others point out that the commission permit only applies to by-right zoning uses. Transmission utility substations, as the Short Hill facility has been described by AT&T, are allowed in the rural west; data centers, which county staff members originally thought were part of the project—and which many still believe the facility to be—are not allowed in the west.
What's Going On Up There?
The Short Hill facility is a long-standing Loudoun mystery, but some people say they do know what the new facility is: a data center. Several people involved with the project specialize in data centers. Parsons, the consulting company leading the project's review, has made three applications on the site—two special exceptions, now withdrawn, and the commission permit. It filed all of them through Wayne Barker—whose business card identifies him as the principal project manager for data centers. [caption id="attachment_13864" align="alignright" width="300"]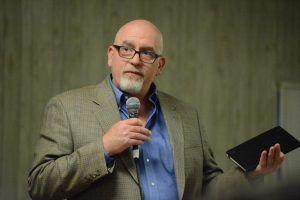 AT&T Principal Network Architect Scott Rushin. (Renss Greene/Loudoun Now)[/caption] AT&T Principal Network Architect Scott Rushin, who explained the project at a community meeting in May, describes himself on his LinkedIn profile as "lead designer and project implementation engineer for data centers and data locations supporting federal customers." The facility's proposed design, too, has raised plenty of eyebrows. In addition to the new building itself, it calls for eight generators capable of producing 32 megawatts of power and 22 air coolers. AT&T is using the zoning term "utility substation, transmission." Communications experts say that doesn't sound much like a utility substation. That includes Mark Foster. Mark Foster knows telephones. He is the Blue Ridge District appointee to and vice chairman of the county's Communications Commission, a serial entrepreneur, and the guy who invented number portability—the ability to change cell phone carriers and keep your phone number. He sees several problems with what representatives from Parsons and AT&T have been saying about the project—first, that it has anything to do with long-distance phone calls. [caption id="attachment_13863" align="alignleft" width="300"]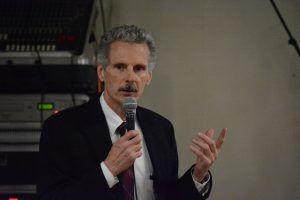 AT&T project manager Bob Ericksen. (Renss Greene/Loudoun Now)[/caption] "The new equipment has a smaller footprint and a much higher heat load, but the volume of data has magnified, multiplied, orders of magnitude, to the point where, even if it's a small footprint of equipment, we are just out of room," said AT&T Project Manager Bob Ericksen, defending the facility's size, at a meeting in May.
[Read about that meeting here.]
Foster doesn't buy it. AT&T's project, he says, is comparable in size to an Equinix facility, the Equinix Ashburn Peering Point, in Ashburn. That facility, in a caged-off area that takes up about 10 percent of its total floor space, switches about 70 percent of global internet traffic. And even then, telephone data makes up about one-one thousandth of internet data, Foster said. "So if you do the math, a facility a fraction the size of what AT&T is proposing to build could switch 700 times the world's total telephone traffic, if you're just talking switching," Foster said. "Now, I don't know what else they could possibly mean when they say 'utility substation, transmission.'" A single modern fiber optic switch, he said, can handle over 15 million calls in 3.5 inches of vertical rack space—almost twice the peak number of calls of all types in the United States. Foster also questions the power need evident in the massive banks of generators. He talks about power density—how much power the facility uses by square foot of space. He estimates that, if there are server racks inside the building, it's using between 20 and 40 amps per rack—far more energy than is needed for fiber transmission and switching. Instead, he said, "that is right smack in the middle of the range of power density required for a commercial data center." "What I'm left to conclude is that, based upon all that analysis, it can only be a commercial data center and nothing else, or primarily a data center," Foster said. He also pointed out the enormous effort gearing up at the county right now to revise the county's comprehensive plan, which protects the west from large developments and industry. "Putting it up on top of a ridge right in the heart of agricultural western Loudoun is precisely the opposite of what all of us who move, and live, and make our livings out here in western Loudoun understood to be part of the bargain," Foster said. Foster's sentiment echoes that of now hundreds of people who live near the mountain in western Loudoun. And it also echoes a sentiment from history. [caption id="attachment_14764" align="aligncenter" width="660"]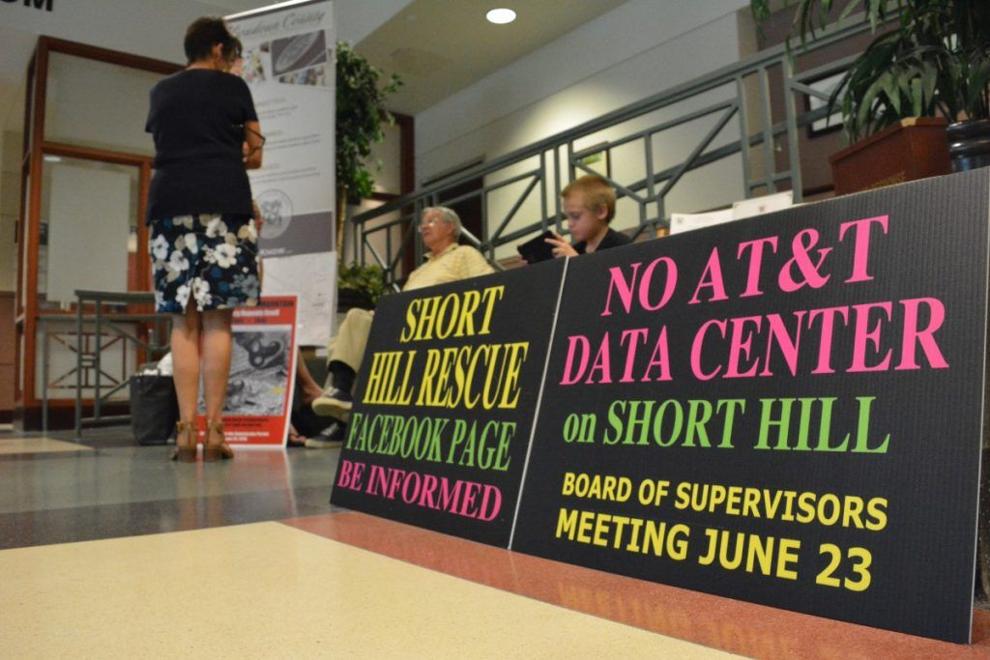 Residents gathered before the Board of Supervisors meeting Tuesday, June 7 to ask supervisors to stop the project. (Renss Greene/Loudoun Now)[/caption]  
History Repeating?
History may or may not repeat itself, but in the case of the AT&T property, headlines do. Melani Carty, who lives near the mountain, has been spending a lot of her time researching the roots of the project. At Leesburg's Thomas Balch Library, she turned up newspaper headlines from 1963 with a familiar ring. "Mystery Project Slices Mountain," a
Loudoun Times-Mirror
headline announced on Jan. 24, 1963. In those days, too, there were more questions than answers about the facility on Short Hill Mountain. "The secrecy of the project is a cover up to prevent public opposition according to Planning Commission Dr. Thomas Orme," the
Times-Mirror
reported at that time. "The whole veil of secrecy serves the purpose of keeping the public uninformed so there will not be public opposition to the project," Orme said in 1963. "There's pretty universal opposition to this spanning the political spectrum, and no doubt AT&T went ahead with the application claiming extension of current use specifically to avoid this becoming a major political hot button," Foster said on Monday. [caption id="attachment_14762" align="aligncenter" width="660"]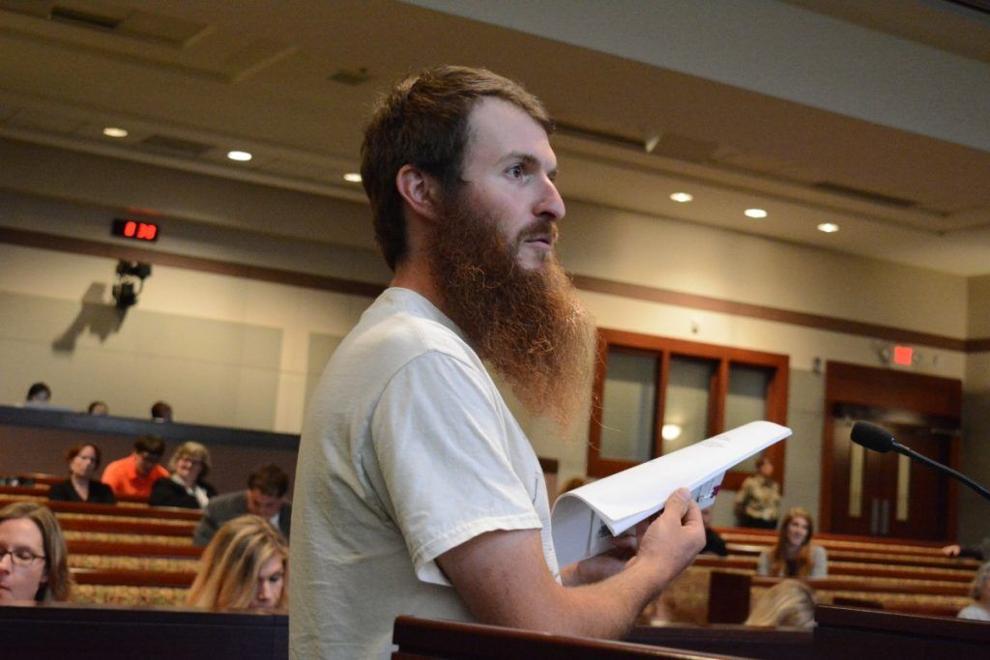 Sam Kroiz, who hosted a strategy meeting about the Short Hill project, holds up a sheaf of papers with articles from 1963 in the county boardroom Tuesday, June 7. (Renss Greene/Loudoun Now)[/caption] As the 1963 project went on, planning commissioners raised furious objections to the project and eventually AT&T stopped the project while it cleared regulatory hurdles. Eventually, after fights between supervisors and planning commissioners, a threatened $17,000 fine for the company, and a failed vote to get the county to apologize to AT&T, the planning commission approved the facility. "In time the scars caused by the installation will heal or at least disappear, [AT&T Superintendent A. L.] Mr. Winner promised," the
Times-Mirror
reported. To people living around the mountain, who have been deluging supervisors with their pleas, arguments, and research, the scars seem fresh as ever.