A $6.35 million lawsuit filed in Loudoun Circuit Court today by former Loudoun detective Mark McCaffrey accuses Sheriff Michael Chapman of "malicious and callous abuse of his status and authority." The lawsuit names Chapman both as sheriff and in his personal capacity, as well as the Loudoun County Board of Supervisors, and the Loudoun County government. The 50-page civil case alleges Chapman manages the Loudoun County Sheriff's Office through "a dynamic of intimidation generated by rudeness, lies, and insulting behavior towards his colleagues, punctuated by screaming and fits of rage, capped by campaigns of unrelenting retaliation, by any means, against the perpetrators of every perceived slight or difference of opinion." In December 2015, McCaffrey, who already had 30 years of law-enforcement under his belt, was not re-sworn following Chapman's reelection. At the time, McCaffrey was the lead investigator in the ongoing case of Braulio M. Castillo, one of Loudoun's most high-profile murder cases in recent years. Following the firing, McCaffrey was hired by the Commonwealth's Attorney's Office to serve through the trial, which resulted in a guilty verdict and a life sentence. McCaffrey voted for Chapman in his first election, but in the next election in 2015 supported one of Chapman's rivals, former Loudoun County Sheriff's Office Major Eric Noble, in the Republican primary. Noble, who resigned when he campaigned for the post, lost the primary and went on to serve as chief of police in Haymarket, retiring in December 2016. The lawsuit alleges that, despite McCaffrey's sterling performance reviews, he was not re-hired because he had supported Noble's campaign. It also details other alleged retaliation, including that Chapman ordered that, despite having no negative remarks, the numerical score on McCaffrey's final performance review be reduced so that McCaffrey would not receive a performance bonus. Among the comments from the review, quoted in the lawsuit: McCaffrey closes cases much more often than the national average, "draws on his extensive experience as a detective and law enforcement officer to make sound decisions and solve problems," and "maintains professional, positive attitude in working with others."
[Read the full complaint here.]
The lawsuit alleges in not re-hiring McCaffrey for political reasons, Chapman violated McCaffrey's rights to freedom of expression under the Virginia and U.S. constitutions, as well as a cooperative agreement between the county government and the sheriff that extends county human resources policies to sheriff's office employees. [caption id="attachment_40079" align="alignright" width="300"]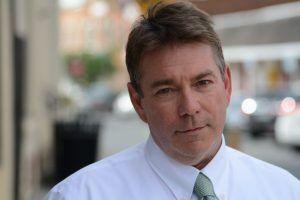 Former Loudoun County detective Mark McCaffrey is suing Sheriff Michael Chapman, Loudoun County government, and the Loudoun County Board of Supervisors for wrongful termination. (Renss Greene/Loudoun Now)[/caption] The case also argues Chapman sought to "crush" McCaffrey even after he left the sheriff's office. For example, it alleges that when Chapman heard a rumor McCaffrey was being considered for a program at the Purcellville Police Department, he ordered one of his senior officers to call Purcellville Police Chief Cynthia McAlister and threaten to remove Loudoun Sheriff's Office resources from that program if McCaffrey was hired. In naming the county government and Board of Supervisors in the case, the suit argues the county should have protected McCaffrey from Chapman's "malignant narcissism." "Today's civil suit filed by former Deputy Mark McCaffrey is a reprised chronicle of false allegations, conjecture, innuendo and/or grossly exaggerated stories designed to smear me, our staff, and the honor and integrity of the entire Loudoun County Sheriff's Office," Chapman said in a statement. "They are the same disruptive, destructive and discredited allegations used by a former failed candidate for Sheriff during the last election cycle." He said he exercises his authority to not reappoint deputies "sparingly, in good faith and in the best interests of the citizens of Loudoun County." Reached on his cellphone, Chapman declined to comment further. Historically, successfully suing a Virginia sheriff for wrongful termination has been difficult—cases across the state have often been dismissed or settled. The sheriff has broad authority to hire and fire at will. In the case of policymaking positions, the sheriff can even hire and fire for politically-motivated reasons, referred to as "political patronage," as political affiliation in those cases can affect job performance. But McCaffrey's attorney, Robert Cynkar, argues that isn't the case here. As a detective, he said, McCaffrey did not make policy, and "it is not legally correct to say that a constitutional officer can violate the Constitution." "The sheriff, as a constitutional officer, can no more refuse to appoint someone because they don't like their race or their gender than they can because they properly exercised their right of political expression," Cynkar said. Cynkar also represents Castillo's children in an ongoing civil suit against their father. The case also lays out a great number of other alleged bad practices in Chapman's leadership, from mismanaging the budget, to awarding contracts to or hiring campaign contributors, to protecting friends from law enforcement, to coming to work "reeking of alcohol." It portrays a story of senior officers who "loathe" Chapman but do his bidding out of fear of retaliation. The county government has released a statement saying it will attempt to move the case to federal court because of the lawsuit's federal constitutional claim, and that it "will not comment on matters involving personnel, particularly when they involve litigation." "As a result, the Board of Supervisors, the County Attorney, and county employees will not comment further, or take any action, pending the outcome of the litigation," the statement reads. It isn't the first time Chapman has faced allegations of political retaliation. In April 2016,
Loudoun Now
 uncovered 
memos detailing 85 transfers and promotions among the sheriff's less than 600 sworn officers
. Those included transferring Detective Sean Dikeman, president of the Police Benevolent Association's Loudoun chapter, from investigation automotive theft to the less desirable job of night patrol. Loudoun PBA Senior Vice President Sergeant Jay Conner—who was given a Commendation Award during the sheriff's annual Awards and Recognition Ceremony a week before the memo announcing his transfer—was moved from investigating robberies and homicides to the Adult Detention Center. Sean McGowan, the executive director of the PBA in Virginia, claimed those transfers appeared to be retaliation for the decision of the Loudoun chapter not to endorse Chapman or any other candidate for sheriff in the 2015 election. Since leaving the Loudoun sheriff's office, McCaffrey worked for the Loudoun Commonwealth's Attorney during the Castillo trial and is now an investigator in the Winchester public defender's office. "Chapman's conduct is animated by a single-minded passion to advance his own interests, magnify his own stature and self-importance, and diminish subordinates, which conduct violated Mr. McCaffrey's constitutional rights," the lawsuit reads.
rgreene@loudounnow.com @RenssGreene
Updated at 3:37 p.m. with a statement from Sheriff Michael Chapman.
https://www.loudounnow.com/2016/04/21/sheriffs-office-shake-up-police-union-claims-transfers-were-politically-motivated/